201 - George Oliver (Footwear) Ltd.
Boot and shoe dealers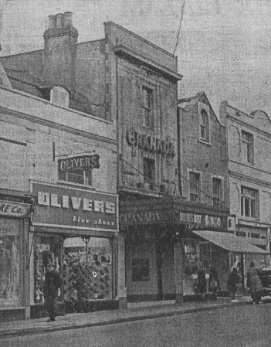 A rival to Lennards, George Oliver's shoe shop arrived in Redfield about 1924 at 201 Church Road, which was next door to the Granada Cinema.
George Oliver started trading in the 1870s, owning and operating a chain of footwear shops. Based in Leicester, Olivers had six shops in Bristol; one in Town and the rest on the City's main shopping roads.
In the late 1950s a new fascia board was unveiled which was very modern for the time. It read 'Olivers - Fine shoes' (see photo). It was a bold departure and it certainly stood out. In contrast Olivers also had an earlier protruding sign, at window height over the pavement. Despite the 1950s update the premises retained a traditional late Victorian shop front with deep plate glass windows either side of a central recessed door. Olivers remained at No.201 until around 1978
Olivers in 1963.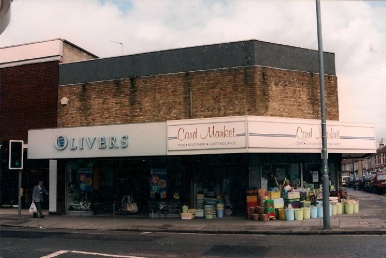 Later the business moved to occupy half of the old Maypole supermarket building. The photograph shows it sharing the site of the former food store with the Card Market, which took over the whole building again and renamed itself to CM3.
This photo was taken a couple of years before Olivers closed in 2002.
<-- Previous Page
Next Page -->