205 - William Albert Moreton / L.G. & D. Heal
Butchers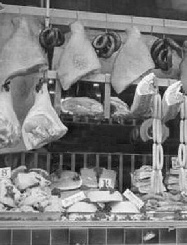 Moretons butchers shop was situated next to the Granada Cinema.
It had a stylish modern shop front with MORETONS in big capital letters. There was always a fine display of fresh meat in the window and Moretons always seemed to be the most popular butchers on Church Road.
One of four shops in Bristol, Mr Moreton opened his Redfield Shop in the 1920s. With a good central location in the heart of Church Road and serving quality meat, it became very successful. So it remained for 60 years. As the 1990s dawned a significant change took place. Moretons bowed out and the shop was taken over by L.G & D. Heal, family butchers.
Moretons was always extremely busy on Saturday mornings as Dave Cheesley recalls: "The door into the shop was on the right hand side. Once through the door you were walking on the fresh sawdust that covered the floor. You then experienced that particular smell you get in butchers shops. Early Saturday mornings I was sent to Moretons with a list of meat to get. There was always a queue. It usually stretched back to the door. Behind the counter there were four people serving. Two men, a woman and a boy. How old the boy was I am not sure but he was about 6ft 4 ins and had worked there for a few years. One of the men had a finger missing which was often the sign of a butcher. Knives and meat cleavers are dangerous work tools. Sometimes when they chopped the meat it was as if they were putting on a display for the customers.
The workforce was very friendly and there was always a lot of banter between them and the customers. Here are a few remembered from the shop.
Lady "Can I have quarter (meaning pound) of ham please"? Butcher "No madam we only do whole portions here".
Lady "Can I have two chicken legs please?" Butcher "Left or right, madam".
Lady "Half a pound of lard, please". Butcher "It's all fat mind".
The customers liked this humour and it was a good friendly local shop.
When it came to my turn I gave them my list and then waited for them to do the order. The meat was wrapped in greaseproof paper with an outer wrap of crisp white paper. The large pieces of white paper could be used for drawing on, as long as it did not have any blood on it."
- - - - - - - - - - - - - - - - - - - - - - - - -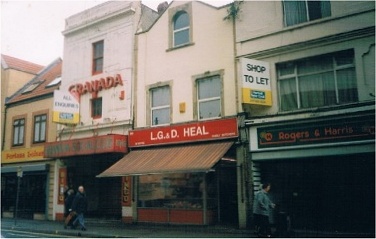 In the 1990s, Moretons Church Road shop was taken over by L.G. & D.Heal. The familiar if by then rather old-fashioned shop front was replaced by a modern red and white design. In 1998 J D Wetherspoon transformed the butchers shop, the former Granada Cinema and the adjacent fruit and vegetable shop into a new Redfield pub, which was given the name St. Georges Hall. This was the original name of the Granada Cinema when it was built in the days of silent film.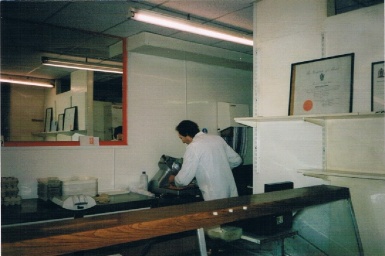 Doreen Parsons recalls: "It was a sad day for Mr Heal and his customers when the shop closed."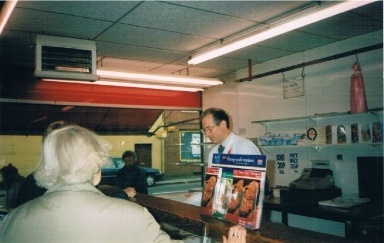 Here Mr Heal can be seen cutting his last ham and serving his last customers before closing the shop.

















The main entrance to St. Georges Hall is the precise site of Moreton's/Heal's old shop.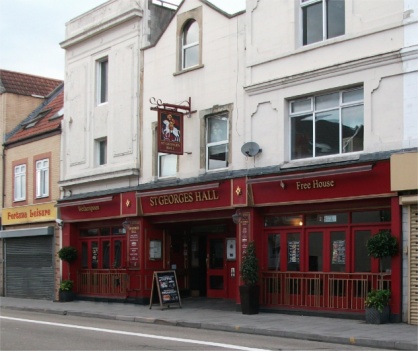 <-- Previous Page
Next Page -->