84 - Reginald J. Walker
Groceries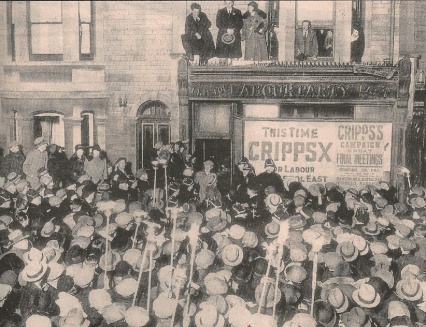 In the early part of the 20th Century, this premises was the headquarters of the Bristol East Labour Party. In the 1930s it was the scene of victory celebrations for Bristol East MP and later Chancellor of the Exchequer, Stafford Cripps. (see right)
At the start of the 1950s Reg and Eva Walker opened a grocery shop at 84 Church Road.
Graham Walker and Rita Warry take up the story of their parents shop:
"We were very relieved when Mum and Dad, after considering places in Mangotsfield and Fishponds, found a grocery business for sale at 84 Church Road, Redfield. The shop was the right size, in a good location and, perhaps just as important as all the other considerations, in a part of Bristol that they knew well. Dad had grown up in Hayward Road, Redfield and Mum in Villiers Road, Easton. They took the plunge and signed a seven year lease with the landlords, Bristol East Labour Party.
They opened on the 1st of February 1951. The whole place needed a coat of paint outside and a good sort out in the shop. The name 'R J Walker' proudly appeared on the fascia board and is still there now (2012) behind the current larger fascia of 'Bargains Galore'. Dad was a very practical sort of man and repaired or replaced much of the shop shelving. The cellar was full of rubbish and even if it wasn't going to be used needed to be cleared out for the sake of hygiene. The storeroom immediately behind the shop was packed full of items that might, hopefully, be sold and even more that were years past their sell by date; although, of course, they didn't have sell by dates on anything then. We don't know if cold meats were sold in the shop before Mum and Dad took over but as it was something Mum understood it quickly became a part of the business.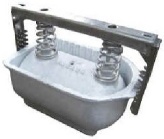 They had three or four ham presses (see picture) which they would stuff with pork, compress and put in the sort of boiler that was still being used for washing clothes in those days. After boiling they would be allowed to cool before Dad would peel the skin off, sprinkle with bread crumbs and they were ready for sale. The little kitchen at the back of the premises boasted little more than a four ring cooker and the boiler on one side and a sink and draining board on the other.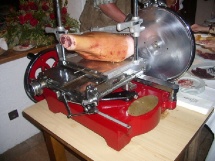 Whilst Dad would cut some ham or pork or tongue and put it in the window for display most customers preferred to see him cut their rashers fresh. In this way they could have as many as they liked and as thick or thin as they liked. Nearly always Dad would show the customer how much he had cut offering them the chance of opting for a rasher or two more. The bacon slicer was a large machine that operated beautifully smoothly; in later years it was replaced by a smaller, gravity fed model. Most of the cooked meat that was purchased was cut in front of the customer.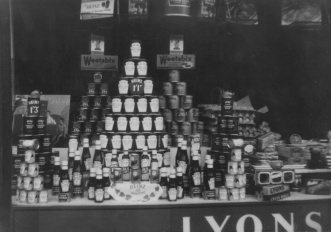 Sometimes they would sell tripe and chitterling which appealed to the older customers. Mum and Dad were very fond of these, especially with a sprinkling of vinegar. We three children were typical of youngsters and were put off by the appearance, let alone the smell. It must have all helped to boost the always meagre profits though. At one stage Mum and Dad introduced cooked beetroot. A large oval cast iron crock would be half filled with peeled beetroot, boiled on the domestic size cooker in the kitchen and the steaming beetroot would be displayed in the window.
When they opened the shop in 1951 butter, lard, margarine and cheese were still being sold from a large slab which Mum or Dad had to cut. Butter, lard and margarine were cut with a deep bladed knife and cheese with a wire just as you see used in specialist cheese shops to this day. It was a tedious job with little reward and they were happy to see prepacked versions of these come on to the market though right to the end cheese was regularly cut on demand. Biscuits were sold loose and had to be taken from the tin in which they came and put into paper bags. Many of these would have broken before they got home when additional groceries were packed on top. As biscuits required such careful handling it was inevitable that there would be a lot broken during manufacture and anyone over the age of seventy will remember the appeal of broken biscuits sold at a fraction of the price of the unbroken variety.
Dried fruit was another item sold to Mum and Dad in bulk. This had to be put into tough blue paper bags - an awkward job with some fruit that tended to stick together and had to be separated using a small shovel-like implement. When we took Mum and Dad's grandchildren into the shop they would often ask for dried fruit in preference to a sweet that might be offered.
Those were the days before central heating and most houses had open fires in the living rooms. The cellar at the shop was an ideal place to store firewood for these - just as essential to the average household as groceries. Dad bought the scrap wood from a Mr Shemwell who had a business in Jockey's Lane, St George and Graham earned many a shilling in the cellar sawing this to length and splitting to suitable size.
By 1970 the business was simply less profitable than it had been and with advancing years Dad's worsening health was suggesting they call it a day. Add to this the awful thought that in February next year decimal coinage was being introduced. They felt that this would be a complication too many and decided to close the business. According to their lease they still had a year to go and the landlord could have pressed for payment of a further year's rent. The Bristol East Labour Party had always been a good landlord and allowed them to go when they liked without penalty, a kindness that was greatly appreciated. By 1970 there was no chance of selling a small grocery business so there could be no income in that way. R J Walker, grocer and cooked meat supplier, closed at Christmas that year.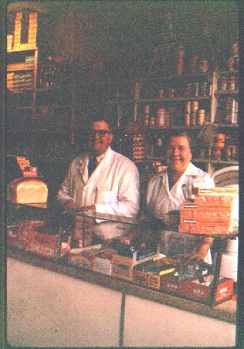 It had not been an easy 20 years, a lot of work had been necessary but Mum and Dad had greatly enjoyed most of it and it had enabled them to be their own boss which was the initial aim. When Graham visited 84 Church Road about five years ago in its new guise as an Aladdin's cave of hardware (Bargains Galore) the owner mentioned that he still occasionally heard customers speak of Mr and Mrs Walker who used to be there and how they were much liked. You can imagine how that made their son feel. Everybody liked Dad. He was a gentleman. For years he still wore detachable stiff collars that were laundered at the Chinese laundry just up the road (next to the Clarks Pie Shop).
Let's finish this story of our parents with one delightful anecdote. It would have been during the mid '60s when Graham's son, Neil, was about four or five years old. He was standing on a small stool behind the counter helping his grandma and grandpa. A customer was thinking about a purchase and commented that she didn't have much money. Quick as a flash Neil pointed to the shop till and said, "I can let you have some money, Grandpa's got lots of money here.""
<-- Previous Page
Next Page -->