84 - Bargains Galore
Hardware - Ironmongery - Fancy Goods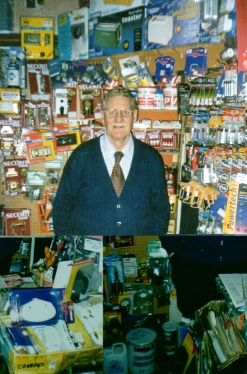 Reg Walker closed his grocery shop at Christmas 1970.
During 1971 Ray Morgan (pictured left) took over the premises and started trading as Bargains Galore - incorporating D.I.Y supplies. The shop sold a wide variety of fancy goods and kitchen equipment together with essential do-it-yourself supplies and hardware items. This 'nails to cuckoo clocks' approach made a positive impression, not only with Redfield residents but also with people from further away. Within a short space of time, Bargains Galore had established itself as a notable and popular Church Road shop. Ray and his partner were very friendly and helpful; the shop went from strength to strength.
The phrase 'Aladdin's Cave' soon became attached to Bargains Galore. It was always 'stuffed to the rafters' with all manner of novelty goods, hardware items and D.I.Y bits and pieces. The sheer scope of the stock was bedazzling; every inch of the shop was used with products seemingly balanced precariously and randomly on top of each other. Ray's shop was also noted for its outside display.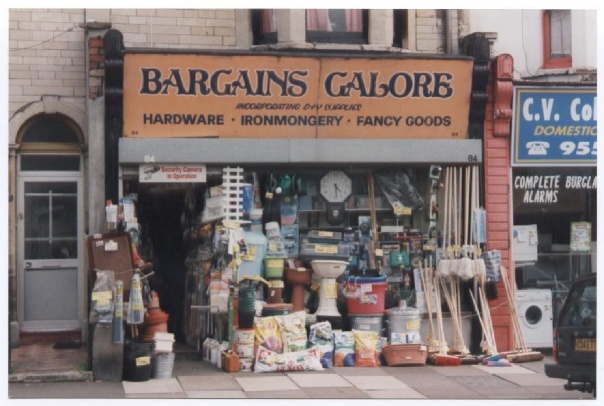 This practice of outside displays harked back to the Victorian/Edwardian ironmongers who were noted for using the pavements outside their shops to extend 'the display of goods'. Often the actual shop front would 'disappear' behind an elaborate exterior display of bathtubs, brushes, pots pans etc. Ray recreated this approach and for passers-by it certainly made Bargains Galore stand out. If you passed the shop early on a morning you would always see Ray unloading his blue Dodge Spacevan and setting up the outside stock display.
A couple of years before Ray's death he was interviewed by Martin Williams who is a member of the Barton Hill History Group and a keen local historian.
Martin Williams recorded: "Ray Morgan moved from Newfoundland Road to Redfield in the late sixties when Newfoundland Road was redeveloped to build the M32. Herbie Rogers was the contact between Ray and the East Bristol Labour Party (Tony Benn) when he purchased the shop. Ray was advised that the Labour Party reserved the right to use their meeting room upstairs, and as a consequence the room remained untouched and was as they left it, complete with refreshment area etc. All the time he ran the shop He stored stock in the room but the Labour Party never had need to return. Ray continued to use a very old pre decimal till that no longer worked but he used it just as a money tray. He usually rounded prices down to the nearest pound on multiple purchases and worked out all his prices in his head. Despite the fact he was not well in his latter years, he still drove to Birmingham to buy most of his stock as he got better prices in the Midlands."
Ray Morgan continued trading right up to his death c 2009. Happily a new owner was found to run the business. Since Ray's time, the floor in the shop has been raised and the cellar has been made accessible. Also the rear of the premises has been redesigned, extending the selling space. The shop now also deals in second-hand goods and the outside display remains a feature. At the time of writing Bargains Galore continues to trade, much as it has done since the early '70s and is now managed by Mr. Mike Clarke.
<-- Previous Page
Next Page -->