78 - Montague Chappel
Toy Shop
From the 1920s Mr Montague Chappel sold toys and fancy goods at this shop located on the corner of Byron Street. During the 1950s the shop still traded, under the name of Mrs Mabel Chappel. In the 1960s the toys disappeared and the business was replaced by a firm of insurance brokers; a bit of a contrast there! At the time of writing No.78 is used by Premiere Fones, a mobile phone repairs and service shop.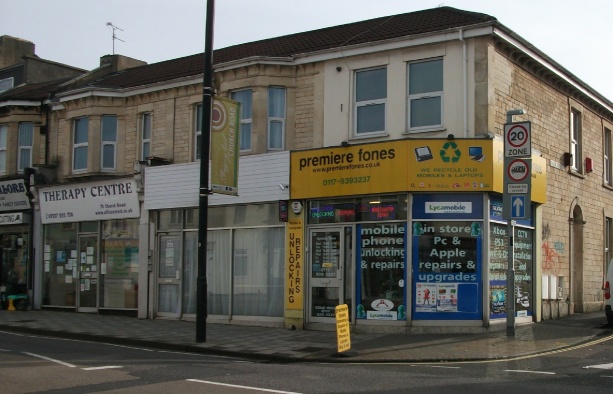 84 to 78 Church Road in 2013.
Doreen Parsons recalls: "Chappels sold toys and novelties. I saw a lovely snake bangle there when I was about five years old and wanted my mother to buy it for my birthday. However she said it was for an older person, so I had to have a different one from another shop. The shop had many different kinds of toys. I bought a drum set for a young cousin of mine when he was about five years old. I don't think his parents were happy about the noise!"
Dorothy Jones and Joyce Peters recalled: "On the opposite corner of Byron Street was the Doctors. Drs Alexander and Houghton lived in the big house. Later this was Dr Moore's surgery before the move to Lawrence Hill Health Centre. A couple of doors from the toy shop was Miss White, who ran a haberdashers (82 Church Road). In the 1970s this was a second hand shop."
"All these shops were part of the rich tapestry of Church Road. We came to Redfield in 1947 from 'foreign parts', Yorkshire and London. We were newly wed, had little money, small children and we had to rely on Church Road for all the shopping and services we needed. From Lawrence Hill to the Park was a completely comprehensive trading area. We had no real need to look further afield even if we could have raised the necessary money for bus fares."
<-- Previous Page
Next Page -->