62 - Charles Caines
Bakers and Confectioners
This bakers shop, near Dove Lane, was part of a terrace of early 19th Century buildings originally known as Moorfields Place. Moorfields Place contained a number of shops and three public houses. Like a number of such 'terraces' or 'places', it was eventually incorporated into Church Road.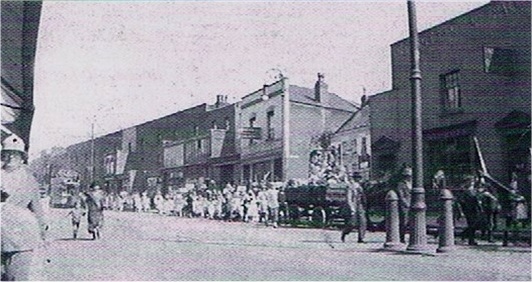 Moorfields Place, Church Road, looking from Dean Lane (Russell Town Ave).
By 1900 a bakers shop had been established at 62 Church Road. In the 1930s Charles Caines was trading as a baker/confectioner from this location. As with most bakers, this shop had a large rear extension containing the ovens. As well as selling from the shop, Mr Caines also operated a delivery round. The 'confectioner' description usually referred to small 'fancy' cakes and fruit pies. In the 1950s Mrs Rose Caines ran the shop.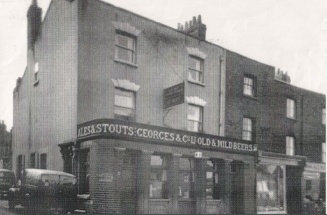 Caines shop adjacent to the Ale & Porter, 1950s. The van is in Dove Lane.
Doreen Parsons recalls: "Caines was next to the Ale & Porter pub. It was a very good baker; they made especially good doughnuts! Charlie Caines went out daily with his horse and cart delivering lovely crusty bread and rolls."
This section of Church Road was targeted for redevelopment by the Council in the late 1950s. Caines shop was demolished in 1964, just before work started on the construction of Moorfields House tower block.
<-- Previous Page
Next Page -->