38 - Treharne Jones & Edith Jones
Hardware Shop
In the early part of the 20th Century, Thomas Treharne Jones had a hardware shop at 38 Church Road (Moorfields Place). He was a well known local character, often seen delivering goods with his horse and 'fully loaded' cart.
The late Ernie Webber recalled: "I started helping Treharne Jones in 1932, running errands and taking goods to peoples houses. Then I would work in the shop, at first just telling Mr or Mrs Jones that there was a customer. Later on I was allowed to weigh up loose soda and serve paraffin from a tank with a pump. I would also help to restock the cart; it was loaded with paraffin, soap (toilet & washing), soap powders, polishes, brushes, buckets, baskets, mats, dyes etc. Plus there were articles from the previous days round. On Saturday nights before I went home, Mr Jones would put 6d into my hand but to me he seemed loath to part with it!"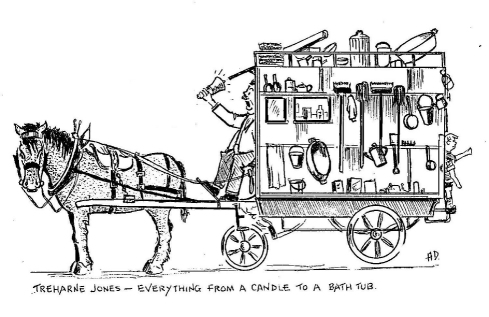 By the mid 1940s the shop was run by Miss Edith Jones (Treharne's sister). She kept the shop much the same and was particularly remembered for selling oil, washing powder and china goods. In the early 1960s when Moorfields Place was being demolished, Miss Jones moved to 25 Church Road. This was situated a few doors along from the Globe cinema, in between Pugsleys and Bernice ladies hairdresser. Miss Jones remained there until about 1968. This rank was later replaced by the City Motors Renault car showroom.
<-- Previous Page
Next Page -->