8 - E.F. Pring & Son
Bakers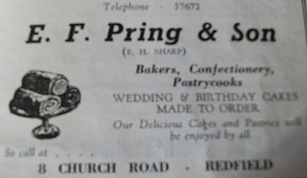 Mr E. F. Pring, baker, pastry cook and confectioner opened his shop in the 1890s. It was situated on the corner of Church Road and Thomas Street. The shop front, although small, was noted for its elaborate glass fascias and gilded lettering.
As was usually the case, the actual bakery was directly behind the shop, in Prings case along Thomas Street. In the 1950s E. F. Pring was advertising itself as - "The celebrated wedding and birthday cake maker. Noted for Seed, Sultana and Madeira."
The shop had a very good reputation in the area. One former Barton Hill resident recalls: "Prings cake shop would open early in the morning with delicious hot bread and cakes and halfpenny bread pudding. Their lardy cakes were especially good."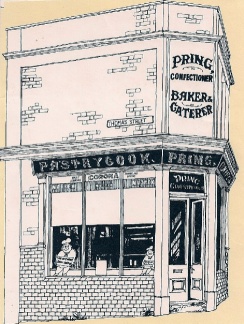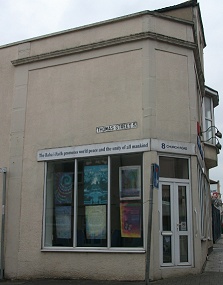 Prings traded well into the 1970s, although ownership changed hands over the years.
This premises was purchased in 1992 by two generous members of the Baha'i community for the use of the local followers of the Baha'i faith. 1992 coincided with the Baha'i holy year. At the time of writing it is still in Baha'i ownership.
<-- Previous Page
Next Page -->