12/14 - P & M Rawlings
House Furnisers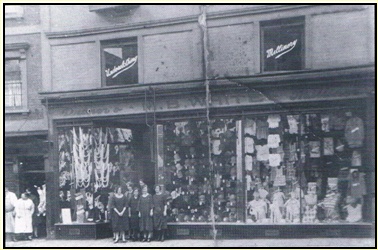 This distinctive shop is situated in a rank between Thomas Street and Cobden Street and at one time was flanked by the Kings Arms and Palfreys, the butchers. From 1886 onwards it was a drapery store. Miss Mabel White, Scammells and Russell Town Drapers managed the business over the years. It was a large shop for the time where you could buy anything from a length of elastic to childrens and ladies clothing. The two windows above the shop advertised the fact that they dealt in underclothing and millinery. From 1936 onwards it belonged to the Bristol Co-operative Society and was known as The Blue Saving Stamp Company. From 1943 to 1956 it was the Bristol Co-operative Drapery Branch. They were trading there during the latter half of the War. At that time clothing was in short supply and coupons were needed to purchase garments. The Childrens Department was upstairs and the highlight of the year was the visit of Father Christmas when the children received a small gift, a rare treat for children during the austere years of the Second World War.
From the late 1950s the shop was owned by Percy A.G. Rawlings where he traded in house furnishings. Since his death in February 2007 the future of this shop has hung in the balance. At the time of writing the fate of the premises is not known.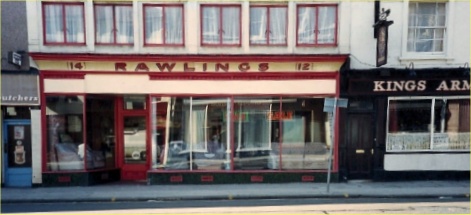 <-- Previous Page
Next Page -->