16 - A. Palfrey
Family Butchers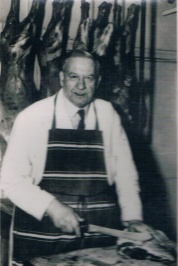 Worthy Palfrey took over the shop in the 1890s. Using a horse and cart for deliveries, the business grew.
Mr Palfrey sold lamb and beef; the animals being kept in pens in the back yard. When the time was right they were slaughtered and prepared ready for sale. The meat was displayed in the shop window and hung around the outside of the front of the premises. This practice made it difficult to leave the shop unattended for fear of stray dogs entering the shop and stealing the meat, but a solution was found to this problem. At the time Albert, Worthy's son, owned a 'pet' rabbit which was rather a vicious creature. He tethered the rabbit to the outside of the shop and this animal acted as a 'guard rabbit' keeping all unwanted dogs away!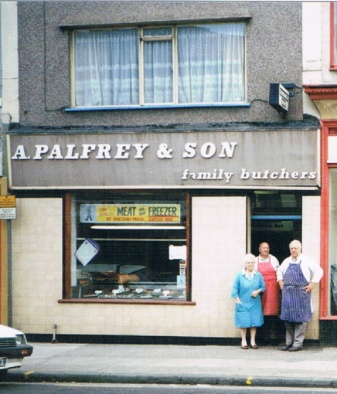 In 1966 Worthy handed the running of the business to his son Albert and his wife Mabel. In the 1980s and '90s the shop was run by the third generation of the family, Michael Palfrey. In the late 1990s Michael skilfully diversified, turning the shop into a sandwich bar. New signage was erected, 'Michael's' and it became a popular venue for bacon sandwich fans. Michael's Sandwich Bar closed about 2003 after Michael Palfrey retired. So after over 100 years the Palfreys left 16 Church Road.
At the time of writing the shop is called 'Sweet Corner' a Polish cake shop.
- - - - - - - - - - - - - -
In 1947 there were 11 butchers trading on Church Road. The fact is, that they all made a living in an age before supermarkets. Most of these had 'rounds' employing the 'butcher's boy' or a 'roundsman' to deliver on the trusty shop bike or later shop van (horse and cart in the early days). Local residents would have their favourite butcher and loyalty was built up over many years. Many butchers were specialists, with people going to one shop for beef and to another for pork. By the end of the 1930s most butchers had a fridge or cold room, which was a big advantage for them, but the butcher blocks, shiny rails for hanging carcasses and sawdust on the wooden floors remained traditional features.
<-- Previous Page
Next Page -->