53-45 - Hamiltons of Bristol Ltd.
Department Store
Henry Edward Hamilton started trading on Church Road around 1916. What Henry Hamilton's Company developed was a kind of 'department store' approach. The acquisition of a group of neighbouring properties resulted in each individual shop unit being devoted to selling different goods and services. At its peak the Hamiltons 'block' on Church Road comprised:
No. 53 - Hamiltons-tailors
No. 51 - Hamiltons-prams
No. 49 - Hamiltons-cycle dealers
No. 47 - Hamiltons-house furnishers
No. 45 - Hamiltons-electrical / radio supplies
In addition at No. 35 was Hamiltons, drug stores.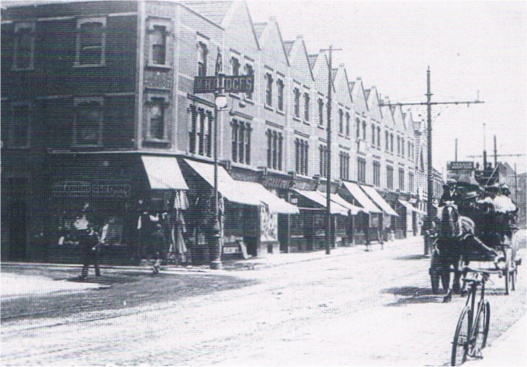 A superb early 20th Century photograph of Church Road. Russell Town Avenue (then called Dean Lane) is off to the left. Hamiltons shops started seven doors along from the junction.The shop second from the junction was also used by Hamiltons.
Henry Hamilton was known to have supplied the gramophones to the local cinemas in return for an advertisement for his shops to be shown on the screen and Hamiltons was a popular place for the purchase of gramophone records. All in all it was a rather impressive set up but regrettably Hamiltons Church Road had closed by the early 1960s. Of the Hamiltons 'block', Nos. 49,51 and 53 were demolished for the Regent Petrol Station. At the time of writing Nos.47-45 still exist and are used by Centurion Windows, established 1978.
<-- Previous Page
Next Page -->