59 - Miss Alice Maud Hale
Confectioner
This shop was situated three doors down from the junction with Heber Street. In 1904 James Gingell was trading here selling sweets. In 1905 it was Mrs. Sarah Ann Gingell who was running this small sweet shop, she was succeeded in 1907 by Henry Thomas Duddridge. By 1911 George Brent was trading here in sweets and greengrocery. In 1932 it went back to confectionery with Mrs. Grace Schofield at the helm.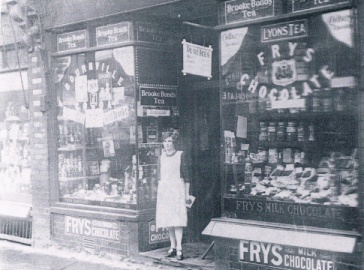 In 1936 Miss Alice Maud Hale took over the business and ran it with the help of her sister Ada. The sisters lived on the premises with their elderly widowed mother Sarah Ann Hale.
The late Joyce Haddrell (nee Hale) recalled: 'My Aunt Alice ran the shop, with her sister Ada helping out when she had time off from her job in W.D. and H.O. Wills. The living accommodation comprised of bedrooms upstairs and a living room plus a kitchen on the ground floor, behind the shop. There was an outside toilet in the yard.
The shop traded in boiled sweets in jars, chocolates, cigarettes and tobacco and 'odds and ends' such as bootlaces, pencils etc. They also sold ice cream distributed in wafers. The ice cream was freshly made in the kitchen at the back of the shop and I have vivid memories of turning the handle on the ice-cream making machine, which was hard work but it made delicious ice cream.
I particularly remember a representative from Wills paying visits to decorate the cigarette and tobacco window with empty cardboard packets. I was fascinated with it all. In those days it was against the law to trade on a Sunday but customers often knocked at the door hoping to be able to buy something they had forgotten and needed urgently.
We had to pass Hamiltons, which consisted of a few separate shops, on our way home from visiting there, which was quite often as my Mother often helped out in the shop and Dad kept an eye on it all. I lived in Parson Street, Pennywell Road.'
This sweet shop/ tobacconist continued to be run by the Hales until c1945 when it was taken over by Mrs. Irene H. Livingstone.
By 1953, it was managed by Mr. Joseph Edward Coles and in the late '50s by Frank Rennolds. This property no longer exists, having been demolished in the early 1960s for the construction of the Regent/Texaco petrol station.
<-- Previous Page
Next Page -->