361 - Summers
Stone and marble mason
Frederick Summers originally set up this monumental stonemasons business in 1906. His office and yard were situated just past the side entrance to St. George Park, opposite St. George Police Station. The yard was a highly distinctive feature of Church Road for many years and an area which many people will remember. It was separated from the pavement of Church Road by a low stonewall while at the top end, large advertisement hoardings backed onto the side of the terrace of houses.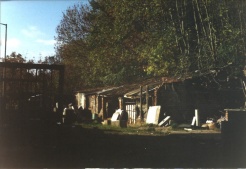 Mr. Summers ran the business until Harold Sheppard, one of Fred's employees took over the firm on his return to England shortly after the War in 1946. The Sheppard family continued at the helm until the 1990s. The business then passed to Simon Morgan whose family have been stonemasons for over 200 years. The company has retained the Summers name which appears on many memorial stones in Avonview Cemetery.
Richard Curtis recalls: "Summers yard always seemed fascinating, with its piles of marble, some polished, some still rough, and all the shapes and sizes of bits of gravestones, although nothing ever seemed to change no matter how many times you went past."
Around the year 2004 the old yard was cleared and a complex of flats was built on the site. At the time of writing Summers retain a small but busy office on the corner of the flats. Due to Summers highly skilled techniques, they undertake maintenance of historic buildings and structures. Tim Boodrie, who manages the Church Road office, was instrumental in the restoration of 'The Fountain' the historic St. George landmark located a short distance along Church Road. Summers remains Bristol's longest established and leading Memorial Masons.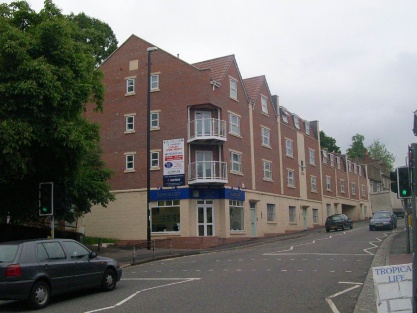 This complex had replaced Summers old yard by 2005.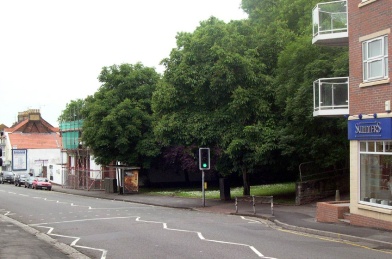 The trees and patch of grass mark the site of the Park Cinema (demolished 1967). Further down the road beyond the bus shelter the Three Horseshoes pub is being removed in this 2005 photograph.
<-- Previous Page
Next Page -->