283 - The Toy Shop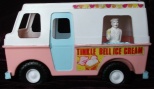 Just along from Elkins the jewellers, this toy shop emerged in the late 1960s. It appeared at a time when toy makers were producing a vast range of products, pre computers of course.
Andy Jones: "My memories of this shop are pretty sketchy but here goes. It was near the sweet shop (toys and sweets in close proximity, a great combination). Unlike Max Williams it was not a specialist toy/model shop but from memory sold mainly a mixed bag of cheaper toys. For example, it had a good range of plastic cars, trucks and buses made in Hong Kong. These tended to be larger than contemporary Dinky/Corgi toys but cheaper and not so well regarded at the time. However, many were superb models despite being seen as cheap toys in the '60s and '70s. One example which I recall in the window of this toyshop was a large, plastic Morris Minor Post Office van.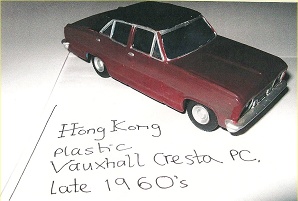 It was a good representation of a popular vehicle of the time. A slot in the roof revealed it doubled as a money-box! The rear doors could be opened where there was a plastic 'cage' to collect coins. It came in a colourful, eye-catching box with excellent graphics. This shop also had a good range of plastic garages and petrol stations; all very impressive. I cannot recall any Airfix products at this shop but a major plus was that it had a carousel display of the latest Corgi Junior die cast vehicles. These were the arch-rivals of the famous Matchbox series which were sold in many of Redfield's newsagents at this time."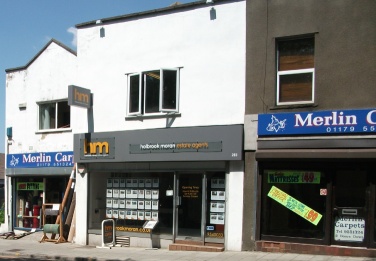 Before the toyshop, No. 283 had been a tobacconist; Mr Evans was the proprietor in 1965. In the early 1980s, after the toy shop had departed, it was used by Robert Bracey & Co, Estate Agents. During the 1990s No. 283 became Park Studio, a hair and beauty salon, and at the time of writing it is the premises of Holbrook Moran Estate Agents.
<-- Previous Page
Next Page -->