287 - Howard S. Elkins
Jewellers
A well regarded firm of watchmakers and jewellers, Elkins was situated near the junction with Chalks Road. They sold clocks, Parker pens, engagement and wedding rings among other quality goods. They also carried out watch, clock and jewellery repairs on the premises.

Howard Elkins founded the business in 1920. Originally his shop was at 184 Church Road near the Fire Engine pub. After the war, it was established across the road at number 287. Later a modern shop front was constructed which was stylish and distinctive. In 1962 the business was taken over by Mr Elkins' son, who was also called Howard. The shop traded successfully until 2003 when Mr & Mrs Elkins retired.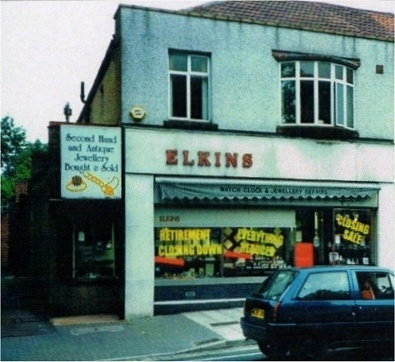 After a short spell as Celestial, a card and gift shop, number 287 became home to Café Grounded in 2007. This eatery and café bar was an instant hit and at the time of writing is a successful and popular part of the local community.
<-- Previous Page
Next Page -->