279 - East Bristol Motor Services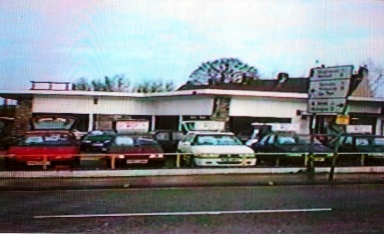 On the eve of World War Two this site, next to the Horse & Jockey, was occupied by the East Bristol Garage, motor engineers. The proprietor was S Stone. Adjacent was Mr Bundy (farrier) while at No.275 was the Forerunner Cycle & Motor Co, motor coach proprietors. In 1954 a planning application was made to build a car showroom and petrol station.
The old buildings were demolished in 1956 and a new showroom, store, office, workshop and petrol station were built. In 1959 the petrol station was owned by National Benzol. The garage buildings were rebuilt and modernised over the years.
Dave Cheesley recalls: "In the early 1970s I was on a driving lesson one Sunday morning with Muller Road School of Motoring driving a yellow Mini along Blackswarth Road towards Church Road. All of a sudden the car stopped. The driving instructor, who was a bit 'scatty', had forgotten to fill up with petrol. He then pushed me and the car into the nearby Amoco service station on Blackswarth Road but unfortunately it was closed. Quick thinking we then pushed the Mini back onto Blackswarth Road, jumped in and coasted round the corner by the Fire Engine pub and across the Road into the East Bristol Motors garage. Luckily there was not so much traffic in those days and the garage was open.
Above the long glass showroom window in large letters was the words East Bristol Motors. They sold good quality second hand cars and had good workshop facilities."
By 1992 the garage was owned by City Motors Ltd of Lawrence Hill. They closed the petrol station and reopened as City Motors Used Car Centre. In 1997 the Horse & Jockey was demolished and two years later the car showroom and garage buildings were pulled down. In a significant development for Church Road shopping, Aldi erected a supermarket which has proved to be very popular.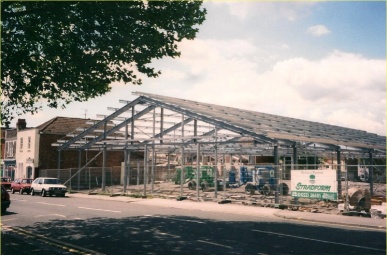 <-- Previous Page
Next Page -->