257 - The Sports Shop
This was located next door to Lennards Shoes, occupying part of the prominent red brick premises on the corner of Church Road and Roseberry Park.
The sports shop made quite an impact when it emerged in the 76/77 season, being a new type of shop for Redfield. A dedicated sports shop on Church Road was a new concept. It sold sports wear, equipment, sports related toys and all kinds of sports merchandise.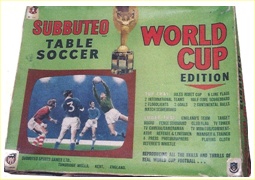 Andy Jones recalls: "As a Subbuteo fan I was impressed because it sold a good range of Subbuteo items. Max Williams didn't sell Subbuteo at this time, so this new shop made an impression with me and my mates. All my early teams, goals and accessories were bought here. My Subbuteo 'World Cup' box set, a Christmas present from Mum and Dad, was also acquired from this shop.
From memory, there was a lot of 'stuff' crammed in but it was a bright, modern, well-presented shop. Despite my patronage, it was however a fairly short-lived affair and it had closed by July 1981."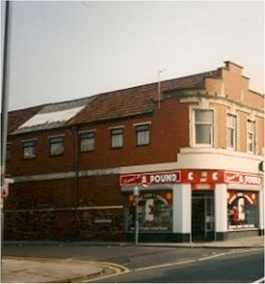 After the sports shop, the premises became Bryants Fair Price; they sold a wide range of health, hair and toiletry products as well as sweets, crisps and drinks at value for money prices. Bryants was succeeded by a business called 'Sound as a Pound'-every item as the name of the shop suggests, cost £1.
At the time of writing No.257 is home to Cindy's Nails.
Note: Before the Second World War, No.257 was used by Swaish Bristol Ltd, a famous local pawnbrokers.
<-- Previous Page
Next Page -->