249-241 - The shops before Tesco
Where Tesco, Church Road now stands were five shops. On the corner of Lyppiatt Road was a butchers shop. This structure was a very old building, narrow and flat fronted. It was originally part of a terrace of cottages known as Lyppiatt Buildings. These were in existence before 1820. By 1900 this corner dwelling had become a pork shop. When the later shops were built, this butchers became 'set back' from Church Road, as was its neighbour.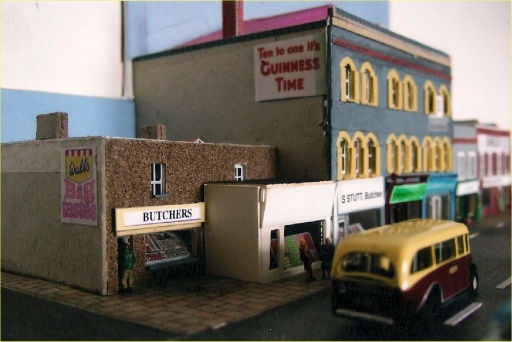 A model of 'the shops before Tesco' by A.S. Jones.
Bryan Weeks: "My Grandfather, Edward John Lewis, was a pork butcher and according to my mother, at the beginning of the last century he occupied the shop situated on the corner of Lyppiatt Road where the Tesco store now stands. She used to tell us that there was a slaughter house at the back of the shop and she could well remember as a child seeing hens running around the yard after having their heads removed!"
Henry Palmer ran this butchers shop for many years, while just before demolition in the mid '60s, S. D. Palmer was the butcher. Next door to Palmer's from the 1920s through the1950s was the Maypole Dairy Co. shop. Maypole was a well-known national chain, with a good reputation for butter, tea and margarine. In the 1960s this shop became a greengrocers with a single storey extension.
Adjoining these two small shops there were three tall, relatively elaborate shop buildings. Being three storeys they stood out, seeming to tower over the buildings either side. No.245 was the first of these shops, in 1963 it was Redfield Butchers, before that it was Stutts butchers shop. In 1900 a Rowland Bence was recorded as the butcher at this location. Then at No.247 was Harry Emmerson's drapers shop. He traded here for many years. No.249 was the last of these tall shop buildings and was the premises of the Bristol Co-operative ironmongery department, formerly Joseph Ivens ironmongers.
Linda Jones: "My Nana and Granfer lived in a flat above the Co-op ironmongers on Church Road. Access was via Lyppiatt Road where there was a wide, open area behind the rank of shops. The bedrooms were at the front overlooking the Road. Nana and family were there until about 1962/63."
All these buildings were demolished in 1965/66 and the Tesco supermarket constructed.
<-- Previous Page
Next Page -->