256 - Smith's Auto Services
Car Parts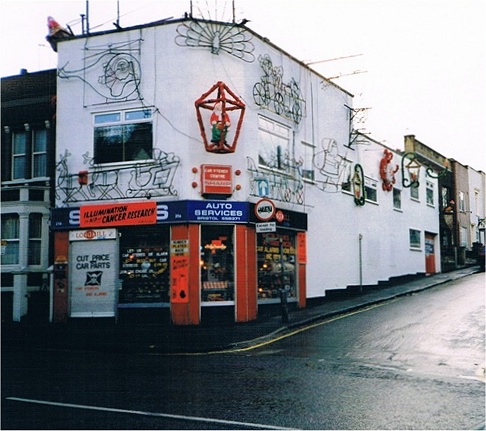 David Stephenson writes: "Ken Smith took over the shop in 1959, selling parts and accessories for all makes of cars and light commercial vehicles. He had previously been in the Royal Electrical and Mechanical Engineers and later worked at Rolls Royce. He started his eye catching Christmas displays in 1968 when he displayed small Christmas trees on poles outside his shop. The decorations proved so popular, from then on he designed his own displays, every year they got bigger he even went to Blackpool to buy them. The outside of the corner shop was usually covered from top to bottom. Designs were helicopters, skyrockets, Santa in a chimney, Santa on a sleigh plus the words 'WELCOME'.
Ken did all this to raise money for many charities, one year he raised £10.000 and collected over 11 tons of dog food for the Dogs Home. His lights are famous throughout Bristol.
Ken Smith died in 2002. At the time of writing his grandson, Simon Plumstead runs the shop and continues much as before."
<-- Previous Page
Next Page -->