237 - David Greig
Grocers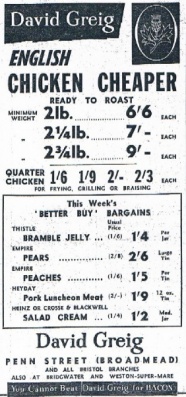 In 1935 the grocery firm of David Greig opened a shop at 237-235 Church Road. David Greig was a national grocery chain like Lipton, Home & Colonial and Maypole. The business had started in 1870 when Mary Ann Greig opened a small provisions shop in Hornsey, London. Her son, David, successfully expanded the business and by 1902 David Greig had 16 shops. David Greig focussed on ham, cheese, bacon and Mauve Packet Tea, gaining a strong reputation for selling fresh food of the highest quality at competitive prices.
Although small by today's standards, David Greig's new Church Road shop must have seemed huge in 1930s Redfield. Moreover its look and style were distinctively attractive. Products were well presented with no clutter to be seen. The interior was spotlessly clean and visually impressive; there were white tiled counters with marble tops. The walls were also tiled and adorned with attractive designs incorporating the firm's thistle emblem.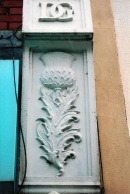 The exterior shop front design of David Greig was classically elegant. Evidence of this can still be seen. At both ends of the shop front is what is known as the pilaster. This shop front feature is based on classical architectural columns. These are topped by a console bracket. Both David Greig consoles remain in place at the time of writing. They are of an elaborate design, with the initials 'DG' very prominent. The firm's thistle emblem is depicted below the initials.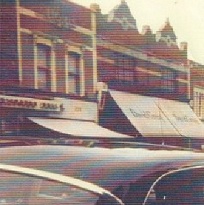 The shop also used large white canvas awnings to protect the window displays from direct sunlight. Both had 'David Greig' written large on them. For attention to detail David Greig set a high standard.
Joy Searle remembers: "David Greigs was a favourite shop where you would be served from behind counters on all three sides of the shop. I look back and remember they sold quality food stacked on smart wooden shelves."
Doreen Parsons recalls: "David Greigs was a very popular shop. They did very good smoked bacon also cheap tins of fruit. The slab cake was lovely. There was fruit slab cake and also jam and cream slab cake which was a favourite of my mother."
Dave Cheesley recalls: "David Greig seemed very posh compared to the other little independent shops on Church Road. Tiled floors and beautiful well made wooden and glass cabinets. David Greigs to me conjures up an image of quality bacon, pork pies, scotch eggs and sausages. The demise of the firm started in the early 1960s following the death of the Chairman and death duties of five million pounds. In 1974 the Redfield shop was suddenly closed without warning and never re-opened. Meanwhile the firm was taken over by Keymarkets which later became part of Somerfields. The shop became Westons chemist and at the time of writing is Lloyds Pharmacy."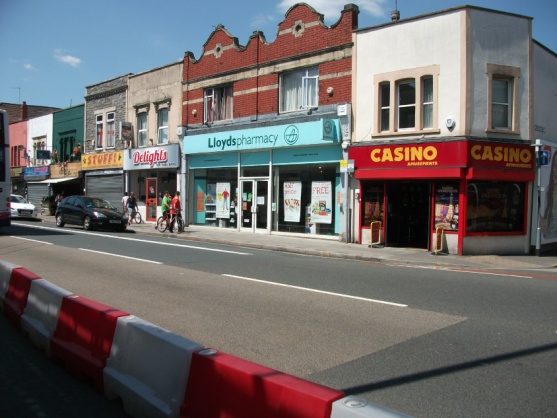 <-- Previous Page
Next Page -->