Chemists
239 Church Road
Henry Hodder & Co established in 1846, was a chemist business that was originally based in St Michael's Hill, Bristol. By the late 1930s the firm had 30 branches in Bristol. The entrance to Hodders at No.239 was set back and angled on the corner of Lyppiatt Road and Church Road. In front of the recessed door was a distinctive tiled column which rose to meet the first floor overhang of the building. In 1968 Westons took over Hodder chemists and the Redfield branch was renamed.

237-235 Church Road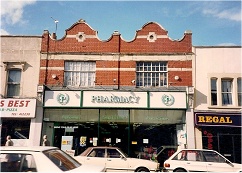 Near Lyppiatt Road, this location has been a chemist for the best part of 40 years. Previously Nos 237-235 Church Road was used by the David Greig grocery store before its sudden closure in 1974. Eventually Westons Chemists took over the premises. They had been trading next door (No.239).
By July 1981 Panbrent Chemist was trading at 237-235. In 1984 the fascia board sign was particularly striking being a vivid yellow colour with the words 'Dispensing Chemist' written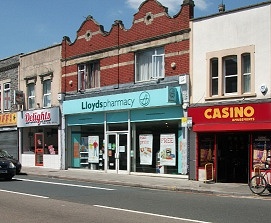 very large in blue lettering. By the early 1990s it had been renamed as Shaunak's Pharmacy as seen in the photograph to the right.
At the time of writing 237-235 is a branch of the Lloyds Pharmacy chain. It became Lloyds c 2000.
<-- Previous Page
Next Page -->