225 - Stephen Carwardine & Co. Ltd
Coffee & Tea Dealer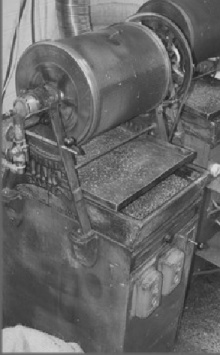 This shop was situated opposite the Avonvale Road junction. The Redfield shop was part of a chain of Carwardine outlets that were renowned for their coffee and tea. The firm was set up as a tea dealer by Thornbury born Edmund Carwardine in 1866. Edmund's son Stephen Ernest greatly expanded the business, dealing in coffee and opening tearooms. Carwardine's Church Road shop opened in the 1930s and reflected the expansion of choice on Church Road which occurred during that period.
This relatively small shop sold roast and ground coffee beans from around the world. A distinctive feature was the working coffee-roasting machine prominently placed in the window creating the memorable aroma. Sadly the Church Road branch of Carwardines closed down around 1970. Although this is not a picture of the Church Road shop roaster, it is a very similar one that was salvaged from another Carwardines branch that was being refitted.
Dave Cheesley remembers: "Carwardine's was my gran's favourite teashop. Typhoo, Brooke Bond or PG Tips was not for her, she wanted her own blend and Carwardine's was her teashop of choice. Every week she would go there to get a quarter of household blend and a quarter of gold dust. This would be measured out in the shop with small shovel like implements and then mixed together and put in a sealed packet. There were so many choices of tea in the shop and it was down to the personal preference of the customer.
Stephen Carwardine and Company had a chain of coffee / teashops all over Bristol. Most people will remember the lovely smell. When you went into the shop you were hit by the aroma of coffee blending. It was a unique smell. Occasionally when I smell coffee it takes me back to the trips with my gran to Carwardines."
Joy Searle recalls: "When you approached Carwardines, the unforgettable smell of the ground coffee drew you in. Mum bought tea there, weighed on old-fashioned scales with weights. The tea was weighed in a shiny metal dish, tapered at both ends. It was tipped onto a flat square of paper, which was folded in double quick time into a perfect package."
During the '80s No.225 was a Shoe Repairs and Key Service shop and retained the old Carwardine's shop front. At the time of writing the premises is home to Secka - a gold and silversmith, jewellery and gift shop.
<-- Previous Page
Next Page -->