223 - Regency Cleaners Ltd.
Situated directly opposite the Avonvale Road junction, No.223 was Hugh Rowbotham's sweet shop in the late 1930s. By the mid 1940s the shop was operated by a firm called British Automatic Confectioners who had a number of shops in Bristol. It seems highly likely that it was also a tobacconist with the shop split 50/50 between sweets and tobacco, as was quite common in those days. In the late 1940s a large number of the population in the UK were smokers. It was recorded that at this time 80% of men smoked. Manufactured cigarettes made up the bulk of this but pipes were popular whilst cigar smoking certainly increased during the Christmas period. Figures at this time indicated that about 40% of women smoked. During the 1940s and '50s the sweet shop/tobacconists of Church Road would have been busy. Some diversified but many stuck to the core products.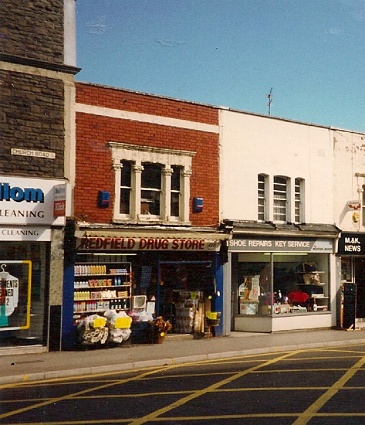 By 1955 the sweet shop/tobacconist had vacated No.223 and the premises had been converted to accommodate a dyers and cleaners. Regency Cleaners had numerous outlets in Bristol at that time, all situated on major shopping roads. One such shop was at 64 Lawrence Hill, while other branches included those at Stapleton Road, Gloucester Road and Fishponds.
By the early 1970s the Regency Cleaners in Church Road had a new neighbour, Bollom who were also cleaners and dyers! It is not known when Regency Cleaners left No.223 but by the early 1990s the Redfield Drug Store was trading from the premises. This was quite popular in its day offering a wide range of health and beauty products plus miscellaneous items at the cheaper end of the market.
By the mid Noughties No.223 was Not Just Nails with an eye catching pink shop front. At the time of writing this is the location of Healthy Food 2 - an off licence and convenience store.
<-- Previous Page
Next Page -->