227 - Newsboy
Situated directly opposite the old Bethesda Church (now charity shop, hairdressers and flats), Newsboy arrived in 1970 and was the strikingly modern name for a new 'paper shop' on Church Road.
This newsagent became popular with lads from Whitehall School as Andy Jones recalls: "Newsboy sold Airfix plastic figures; the 'small soldiers'. These ranged from Ancient Britons to of course World War Two. These were packaged in boxes with evocative and colourful artwork and they were cheap and popular. In fact, on the school coach from Barton Hill Baths, it became a ritual for the Lads to shout out "Stop! I want to get me soldiers", as the coach passed Newsboy. Sometimes, bizarrely, this shop had Airfix figures which Max Williams or Woolworth's didn't have. An example of this was the rare Wild West wagon train set."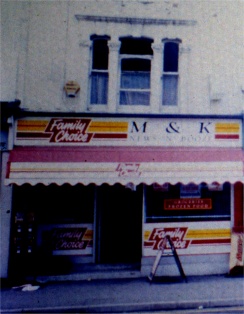 Newsboy was a typical newsagent of the time selling a seemingly random collection of items as well as papers, magazines, sweets and greetings cards. When it became a newsagents the front was changed to a typical 1960s style. So the frontage received a new door and large panes of glass were grafted into the frame of the Victorian shop front. In the late '70s early '80s, this shop front saw particularly bold, colourful stripes and bright shiny signage, together with a plastic 'pram hood' canopy.
By the early '90s this newsagent was called M & K News. At this time protruding signs advertising Embassy cigarettes were prominent on the upper shop front. From about 1997 its fascia board changed to a restrained plain white with the wording 'Evening Post' prominent. It closed c1999 and new signage signalled the arrival of an electronics and computer shop. This was relatively short lived and the building was later used as a tanning studio before becoming a Halal Butchers.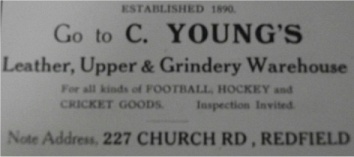 Before Newsboy, No.227 was for many years William Fisher's grindery (anyone remember that?). In the early years of the 20th Century this shop was known as C.Young's. This is one of their adverts from 1913.
<-- Previous Page
Next Page -->