222 - Mark Deacon
Mens wear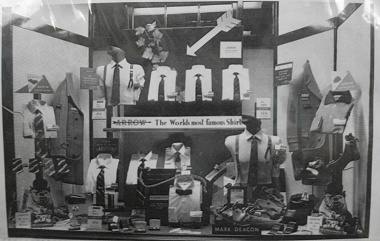 Mark Deacon opened the shop in 1947, when clothing was still rationed. He had previously worked for Thorne Brothers as a professional window dresser.
Donald Speirs went to work for him in 1951 and was soon running the shop on his own with Mark Deacon now only dressing the window.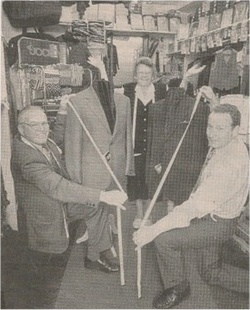 Mark Deacon died in 1962 but his wife Hilda Deacon kept the shop with Donald Speirs continuing to manage it. Donald later took on his son Mark, to help him.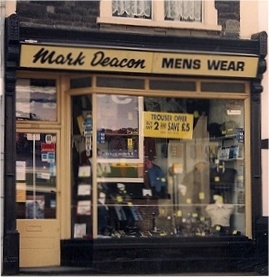 However trends and fashions changed, Donald said, "in 1960 we were selling three dozen ties a week but now if I sell three dozen in three months I would be lucky."

Above: Donald and Mark Speirs with Hilda Deacon in 1997, the 50th anniversary of the shop.
The shop closed in 2001 after a large closing down sale. Donald Speirs had served the customers of Mark Deacons Menswear for 50 years. At the time of writing the premises is no longer used as a shop.
<-- Previous Page
Next Page -->