202 - West Of England
Off Licence / Grocers
The first shop past Cossham Road. Originally this was the West of England beer retailer and grocer. This off licence is mentioned at the start of the 20th Century, while the proprietor in the '50s and '60s was Mrs Winifred March.
Information on the West of England is sparse and it is not clear if it was tied to a particular brewery or supplier. Many such establishments were described as 'licensed retailers of ale & porter, not to be consumed on the premises'. Some off licenses sold just bottles, others offered in addition beer on draught. Where this was the case, a few barrels would be positioned along a side counter. The grocery angle was always an important part of such enterprises. Being directly opposite St George Grammar School the West of England might have done a brisk trade in sweets. Loose biscuits tended to be a popular line for many beer retailers of this type. Many off licences boasted quite elaborate window displays, while a pub style sign was usually evident. In most cases the general public would use the proprietor's name rather than the official title.
The Kellys Directory does not mention the West of England off licence after 1966 and a photograph of this off licence has yet to come to light. In the 1970s and '80s the premises was a small grocers and cake shop, as David Stephenson recalls: "It was run by two elderly ladies. They displayed loose eggs on a cake plate. If a child reached over and damaged one you were made to pay for it. Like going back in time! Another shop that was converted to a residential dwelling."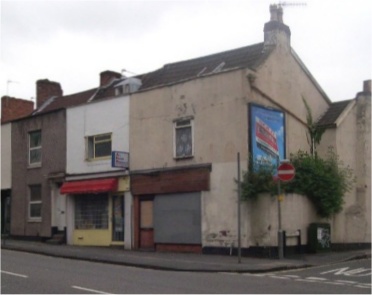 The former West of England Off Licence as it looked in 2005. Does a picture of the Off Licence exist?
Next door was the shop many people will recall as Avery's.
<-- Previous Page
Next Page -->