204 - Moxhams - Fishmonger/ Averys of St George
Fishmonger, general provisions
No.204 was a shop for over 70 years and people may recall it as the location of Avery's. Originally it was a residential dwelling situated opposite the St George Higher Grade School, later St.George Grammar School.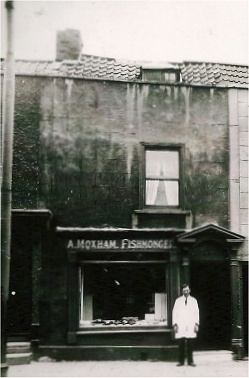 After World War One, No.204 became a pork butchers shop. During the period from 1919 to 1929 a Miss Francis is recorded as the proprietor of the butchers. Mr A.E Moxham arrived in the early 1930s (see photograph). He was a fishmonger and he traded here until the mid to late 1950s.
Mr Charles C Avery took over the shop around 1960; he was an ex-policeman and became a City Councillor.
Like Mr Moxham, Mr Avery dealt mainly in wet fish which was delivered early in the morning.
David Stephenson relates: "An incident occurred when someone stole the delivery of fish that was left outside the premises. This story made the front page of a local newspaper. Mr Avery diversified as the years went on, buying and selling local vegetables from people who owned nearby allotments."
In 1978 an advert highlighted 'Fresh & frozen poultry a speciality - wide range of frozen foods'. In 1983 an Avery's advert promoted 'Wholesale - Retail, fish, fruit & provisions' Avery's also became an off licence, where alcoholic drinks could be purchased to take away. The shop was still going strong in 1987 but by 1994 Avery's had departed from Church Road.
<-- Previous Page
Next Page -->