Cyril Dark & Sons
Furniture & Carpets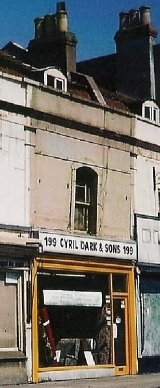 Cyril Dark and Sons are an old established, East Bristol furniture and carpet business founded in 1947 by Cyril Dark. Cyril Dark and his wife Eileen purchased the business of 'Red House Furnishers' at 116 Lawrence Hill. The purchase included the property, fixtures, fittings, stock and contracts. In 1956, the business expanded when they acquired 118 Lawrence Hill. In 1963 these two shops were required for road improvements as part of the Lawrence Hill Roundabout scheme. They were sold to Bristol Corporation and Cyril Dark relocated to 199 Church Road, next to Gwilliam's shop.
This shop was leased from the Corporation. On 17th July 1980 No.199 Church Road was totally destroyed by fire.
However within a week Cyril Dark and Sons had moved the short distance to 191 Church Road acquiring the empty premises that had once belonged to Osbornes, the funeral directors.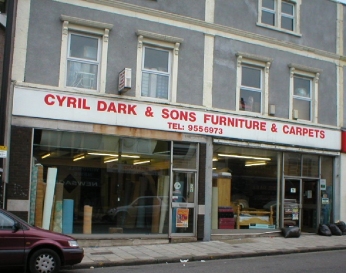 Approximately four years later they took over the adjoining premises No.193 when William Hudd retired. The two shops were extensively redesigned to provide large, bright, new premises for the business. When the lease became available for No.195, (the shop on the corner of Victoria Parade and Church Road, which was previously a branch of John James,) these premises were also taken over by Cyril Dark. This arrangement lasted for about a year after which time Ladbrokes took over the lease.
Cyril Dark and Sons latest move (in 2011) was to Victoria House, Netham Road, Bristol. At the time of writing Cyril Dark's continues to flourish, his sons and grandsons now running the business. The firm has gained a good reputation for giving value for money and providing a good service and they remain the first choice for many Redfield residents as well as people from further afield.
<-- Previous page
Next Page -->