191 - Osbourne & Sons
Funeral Directors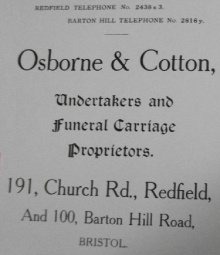 George Osborne and Sons were established in 1847; in the 1880s they were operating as carpenters and undertakers in premises on Stapleton Road. By the 1890s they had changed their name to Osborne and Cotton and were situated at 191 Church Road, next to Hudds the pawnbrokers.
By the 1930s the name of the business reverted back to George Osborne and Sons with Walter Herbert Osborne living on the premises.
They also had other premises in Victoria Parade where they stabled their horses and kept the coffins. These premises were later sold to the Pugsley family which they then used to build part of St. George Hall Cinema (later the Granada).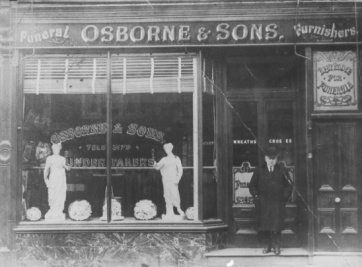 Bryan Weeks recalls: 'In those days all the Osborne's hearses were horse drawn and the horses were stabled behind the shop. The younger son Dudley Osborne, who was a close friend of mine, loved caring for the horses and as a result studied to become a veterinary surgeon and for a time was responsible for caring for the animals at Bristol Zoo.'
In the 1960s there appears to have been a change of ownership, to Osbornes of Bristol and Thomas Davis. It was probably at this time the old Victorian style shop front was updated to a more modern design. By the late 1960s it was known as Thomas Davis (Funeral Directors) Limited. Evidence suggests they left No.191 around 1972.
This shop was empty in July 1980. Within a week of the fire that totally destroyed Cyril Dark's premises at 199 Church Road, Darks were able to acquire No.191 and to start trading again at this address.
<-- Previous Page
Next Page -->