163 - Lampard & Lampard / Don Oatens
Pastry Parlour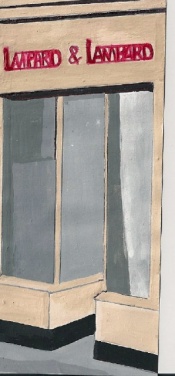 High-class bakers and pastry cooks, well regarded in its day. Situated at 163 Church Road, at the end of the Edwardian terrace between Albert Street and Redfield Methodist Church. It was notable for being called a 'pastry parlour' and having a distinctive, rather stylish shop front. This consisted of cream/yellow tiling and red and gold lettering. Long deep windows were either side of a recessed central door.
Specialities were wedding and birthday cakes, made to order, plus English and continental 'fancies' which were 'fresh daily.' Lampards traded on Church Road from 1915 to about 1984. They had in fact replaced a very similar business. J. M. Joll, who were also pastry cooks and confectioners. A Joll advert from 1913 highlighted meat pies, fruit tarts plus wedding and birthday cakes.
Dave Cheesley recalls: 'Walking along Albert Street, first thing in the morning, you were hit by a wonderful smell of baking. It was coming from Lampards bakery situated behind their Church Road Shop. Bread and cakes were baked overnight ready for delivery to Lampards other shops and customers around Bristol. For this purpose, Lampards had a small fleet of cream coloured vans, unique because they all had the number 163 on their registration plates. 163 was the number of the Church Road Shop.'
Tony Brake recalls: 'My mother frequented Lampards to buy bread and cakes. The right hand window was full of fancy cakes. Inside the aroma from the fresh bread and rolls was great. The counter was on the right hand side. On the left were trolleys filled with trays of bread and various kinds of rolls. At the very back of the shop, steps lead to the huge bakery ovens. The bakery could be accessed by a lane which lead from Albert Street.'
Joy Searle remembers: 'The bakeries I remember were Lampards down from Victoria Parade and I think it was called, The Little Bread Shop, almost opposite Roseberry Park. These shops would be packed with customers queuing onto the pavement for their fresh bread.'
<-- Previous Page
Next Page -->