161 - Mayfair
Ladies Hairdresser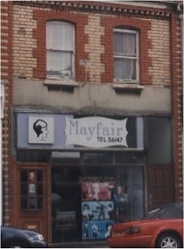 At the time of writing No.161 is Niki's Hair Salon. This location on Church Road has in fact been associated with ladies hair styling for over 75 years.
In the 1930s a Miss D. Bateman was the proprietor of Dolores ladies hairdressers. During the 1950s Mrs Cuff took over the business.
By the end of the '60s there was a change of name to the Mayfair ladies hairdressers. At that time Mayfair was situated between Lampards on one side and Jefferies on the other. It has been suggested that Mayfair moved up from Lawrence Hill when that area was redeveloped.


**************************************************************
159 - Jeffries & Co.
Bristol Book Exchange


Jefferies & Co. was a long standing gents outfitters and hatters, who had been trading at 159 Church Road since at least 1930. About 1971 Jefferies left this shop and it became the Bristol Book Exchange.
Dave Cheesley recalls: 'This must have been in the early 1970's. It was a second hand bookshop. There was a shop similar on Gloucester Road where you purchased a second hand book and got half the price back if you returned it at a later date. They stamped every book and magazine with a hand stamp that said 'Book Exchange'. As far as I remember I bought some railway books and magazines in the shop.'
Twenty years later No.159 was used by the House of Edwards - 'Manufacturers and Retailers of Bridal and Evening Wear'. Since about 2000 it has been the Moorfield Estate Agents.
<-- Previous Page
Next Page -->