157 - Kentucky Fried Chicken / Miss Millies
The arrival of the KFC in Church Road was big news in Redfield in 1974; no one had seen anything like it! - it was an instant hit.
Situated on the corner of Church Road and Albert Street, No.157 had formerly been a greengrocers shop. Kentucky Fried Chicken was new and different; hot, tasty southern fried chicken and chips in a smart red and white box. The box with its little lemon 'clean-up-square,' was a great novelty in the early days.
The first KFC in the UK opened in 1965. The Church Road outlet in the '70s and '80s was very popular. It offered a new angle and a new food option from the traditional fish and chip shops.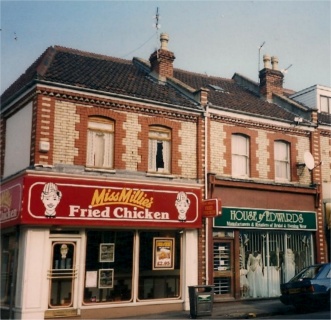 Miss Millies in the1990s. Next door, the House of Edwards had been the premises
of Jefferies, gents outfitters. Note the impressive combination of brickwork.
In the summer of 1988 KFC handed over No.157 to the similar Miss Millie's Fried Chicken.
In 2013 Miss Millie's celebrated its 25th anniversary. The founder of Miss Millie's, Harry Latham, was a former Managing Director of KFC GB. He was good friends with Colonel Sanders of Kentucky Fried Chicken and named his new brand after the Colonel's daughter, Mildred.
<-- Previous Page
Next Page -->