184 - Jack Reed (carpets and antiques)
Red Flower Barrow (florist)
Jack Reed took over this shop from Mr Elkins, the watch and clock maker, in the late 1930s. Mr Reed sold carpets and furniture but was also an antique dealer. The large shop front was rather impressive with angled side-windows leading to a recessed central door. A well-executed fascia sign was an attractive part of the shop front. Jack Reed traded at this shop until the early 1970s.
The shop was sold to PANEL-ON, car accessories and parts. A bold, modern shop front replaced the old design; out went the recessed doorway. By 2005 PANEL-ON had been replaced at 184 by the Red Flower Barrow who had traded from next door (186) the old Robbins greengrocers.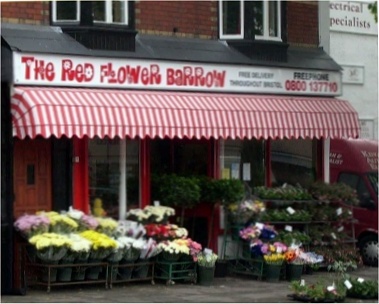 At the time of writing, the Red Flower Barrow with its extensive display of flowers and plants is one of Church Roads most distinctive shops.
<-- Previous Page
Next Page -->