143 - The Launderette
The first Launderette in the UK arrived in 1949, when the first self service, coin operated launderette was opened in Bayswater, West London. About five years after this pioneer London launderette, the concept arrived in Redfield when Young's Launderette was opened at 143 Church Road. This was just along from the White Lion pub and next door to the television/radio shop. It was a new angle for Redfield, indeed it was one of the first launderettes in Bristol. By 1965 it was known as the 'McClary Easy Self Service Laundry'.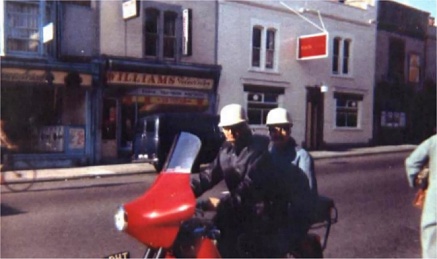 During the 1970s the boom in launderettes had slowed, a result of more people acquiring washing machines. In 1971 government statistics showed that 63.3% of households had use of a washing machine. By 1979 this figure had risen to 77.6%. In the early 1970s No.143 was known as the Coin-op Launderette.
Evidence indicates it had closed down by 1981.

1962 - The Launderette, Williams TV shop and the White Lion.
Doreen Stephens, who lived in Derby Street, recalls: 'The launderette at 143 Church Road was down opposite Morse Road. It was certainly there in 1955. You had to put a shilling in the slot and you took your own soap. If you wanted bleach you had to pay another 2d and you got it in a plastic container. As you went in, the washing machines were all up on the right hand side with three or four big driers on the left. Then there were the huge big spinners about four feet high. The whole idea was that you had to book to use a machine.'
Rodney Stephens remembers: 'Nan used to book a 2 pm slot on Saturday (it was a bit like Eastenders!). She used to go down and put the laundry in then she would send me down about 2.30 to get the stuff out. I would have sooner been playing with my mates!'
In 2010, Whites launderette was opened in Redfield at 144 Church Road, opposite Tesco. It offers dry cleaning and laundry services.
<-- Previous Page
Next Page -->