137 - William Alfred Way
Butcher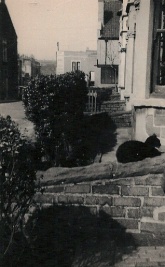 Bill Way occupied the Victorian corner shop opposite Morse Road at the junction of Church Road and Edward Street. He started trading about 1937, although the premises had previously been used as a butchers with Albert Stirret as the proprietor. This shop was typical of many such small, fairly basic butchers of the time. Mr Way relied on a band of loyal customers, mainly drawn from older ladies who lived in the adjacent streets. Bill Way soldiered on into the1970s but by then times had moved on. The butchers shop closed down about 1976.
<- In this picture, Bill Way's can be glimpsed looking from half way along Morse Road.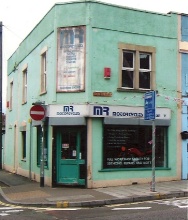 'You would go into Ways for some chops and spend 20 minutes getting the gossip from Mrs Way who was sat at the back of the shop. That was all part of shopping in those days. The Sunday joint was the highlight of the week.'
'Mr Way had a 1950s Commer van that he used to keep in a garage in Edward Street, behind the shop.'
At the time of writing MR Motorcycles can be found at No.137. This business has been trading at this location since the late '70s.
<-- Previous Page
Next Page -->