135 - Various Takeaways
No.135 Church Road is at one end of a mid Victorian terrace, with the Redfield Public House at the other end.
Since the end of the 1960s this corner premises on the junction of Church Road and Edward Street has been the location of various takeaways.
About 1970, No.135 was converted to become Roberts Fish and Chicken Bar. It proved to be popular with local residents. Roberts had previously been situated at the top of Berkeley Street, Lawrence Hill but the shop was demolished to make way for the Lawrence Hill roundabout. By the early '80s, Roberts had been replaced by Sunnys Fish Bar and Chinese Takeaway.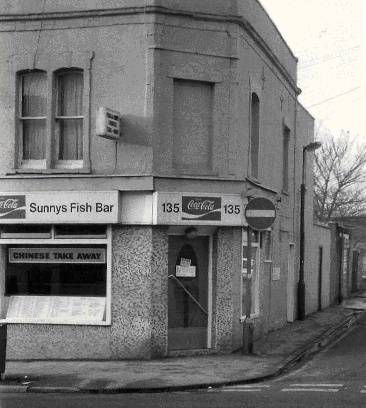 During the 1990s Sunnys in turn gave way to the Ocean Chinese Takeaway and at the time of writing it is the location of Panda Fish & Chips and Chinese Takeaway. Preceding Roberts chippy at No.135 was Juliet, a ladies hairdressers, while in the 1940s and 1950s the Regent Fruiterer & Florist traded from these premises.
Note: Edward Street was one of the few Redfield streets where all the houses were demolished in the 1960s.
<-- Previous Page
Next Page -->