132 - Harold Bush
Sweet shop/ tobacconist
Weedon Tyres
In the 1930s and through the 1950s this was a sweet shop/tobacconist run by Mr Harold H Bush.
The late Ern Haste recalled: "Another well known sweet shop on Church Road was on the corner of Worsley Street and Church Road. Here was a slightly different sweet shop in the fact they diversified with a lending library at the back of the shop. They also sold a small amount of toys."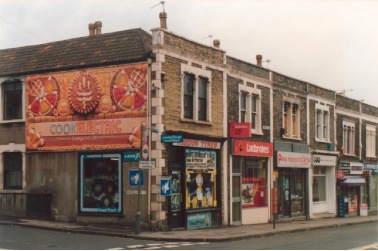 The sweet shop/tobacconist remained until the end of the 1960s; records show a Mr Nicholas there in 1968.
Many people will recall the premises as Weedon Tyres. G.J. WEEDON tyres advertised as "For your cheapest quote in Town, Bristol's largest part used specialists. NEW. REMOULD. PART-USED."
By the early Noughties, the building was renovated and became an office for a construction consultancy business. By 2008 Blue Skies Photography had arrived here and soon the building boasted an eye catching exterior paint job.
On the opposite corner of Worsley Street (134 Church Road) was the tyre yard and shop later known as G.W.Tyres Ltd. Originally it was known as H P Tyres. During the 1950s this premises was A.B.C. Cleaners. In 2008 the 1880s building was demolished and a structure of flats with a shop unit (Worsley Court) put in its place. The old tyre yard was built over. At the time of writing the unit is used by 2nd Hand Rose, house clearance bought and sold business.
Dave Cheesley recalls: "I remember Weedon Tyres well as my Dad knew the owner (presumably Mr. Weedon). I think my Dad used to see him in Ladbrokes. (Ladbrokes at this time was next door at No.130 before moving across the Road to No.195) I was in need of a new tyre for my Cortina Mk V. This would have been in the 1980s. Dad mentioned it to Mr. Weedon, who said "Send him in and we'll sort it out". So on the Saturday morning I drove my car into his small yard in Worsley Street. Out came the floor jack and on went my new tyre (Probably a remould). I am sure it only cost me £10 which was the cheapest anywhere. In the yard I remember there were piles of part worn tyres."
<-- Previous Page
Next Page -->