124 - Windmill News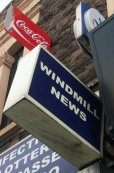 There has been a newsagents at 124 Church Road since before Redfield became part of Bristol in 1897. Directory records show that in the 1890s a Mrs. H Smart was trading as a newsagent from 124 Redfield Road, before this stretch even became part of Church Road.
About 1903, Mr. William Gabb took over as the newsagent. He had a long period running the business, trading well into the 1930s. This period saw a growth in newspaper readership as well as the introduction of new confectionary products such as Mars Bars, Kit Kats, Smarties, Rolo and Trebor Mints. Many Redfield people will recall Reg Whitcombe. He took over the shop in the mid 1950s and was there until the mid 1970s. During the 1960s the shop was modernised with a new shop front added. New colour magazines reflecting the expansion of hobbies and leisure interests were produced plus new sweets and chocolates arrived on the market. New items emerged in addition to the 'core' of newspapers, cigarettes and confectionary. The popularity of Airfix model kits and Matchbox Toys, both Post War products, grew rapidly in the 1950s. Well made and cheap, significantly they were not restricted to specialist toyshops. In the 1960s and 1970s examples of both could regularly be found in Church Road newsagents.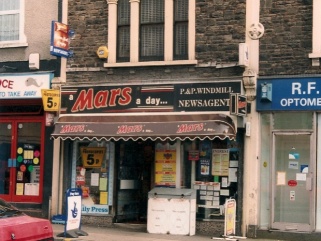 By 1981 Phil and Pat Windmill were running the shop. Like many such businesses it was a case of moving with the times. Slush ice drinks became popular; these were dispensed from a special machine. Windmills also began selling a small selection of video cassettes, which joined the traditional selection of miscellaneous stationery items. In the 1990s, National Lottery tickets, bus passes and photocopying were new lines for many newsagents, Windmills included. This was against a backdrop where cigarette usage fell and supermarkets began selling newspapers and magazines. Although Phil & Pat Windmill retired some years ago, the new proprietors have maintained the name and the long tradition of service to the Redfield community.
Andy Jones: "Whitcombes (or Shepherds as it was later called) delivered to my house the Bristol Evening Post (three star), News of the World on Sunday, plus my 1970s 'Battle' comic and Mum's Woman's Weekly. It was the newsagent I visited before School to get my 'Shoot' football magazine and on a good day a Cadbury's Bar Six. The counter was not where it is today but was on the right hand side of the shop next to the magazines. Whitcombes certainly sold Airfix 'big scale' soldiers in the early '70s; I recall my Dad buying me a couple of boxes plus an Airfix army truck. The other point to make is that the zebra crossing was directly outside the shop."
<-- Previous Page
Next Page -->