122 - William Edward Hudd
Optician
In the heart of Church Road, No.122 has been an optician for many years. At the time of writing Mike Cees Opticians is the current firm offering the latest eye care services at this location.
The story however goes back to a notable 20th Century name in the retail history of Church Road, the Hudd family. At the end of the 19th Century Hudd's pawnbrokers was opened at 193 Church Road. It was to be directly opposite, at No.122, that William Edward established Hudd's the opticians.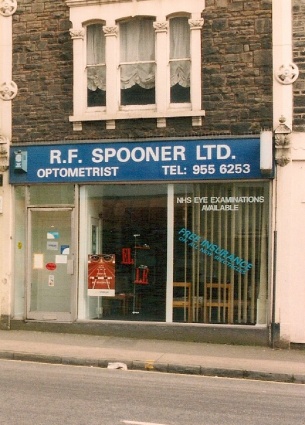 The Bristol and Suburban Street Directories from the late 1920s and 1930s record William Edward Hudd at No.122 as a 'watchmaker'. This hints to the possible evolution of Mr. Hudd's business. Although we do not know the precise facts, it appears likely that William Edward started in the family firm as a watchmaker/jeweller. It is likely that as well as dealing with watches, clocks and jewellery, the repair of spectacles was also part of the business. From this base, one possible scenario was that William Hudd trained to become a fully qualified optician. Certainly by 1947 the Directory is referring to William Edward Hudd, F.B.O.A, F.S.M.C, F.I.O optician. It is certainly true that for local folk in the '40s, '50s and '60s, Hudds was the place where you went for your spectacles.
Mr Hudd's successor as opticians at 122 Church Road was the firm of R.F. Spooner. The time of the change over would be 1972/73 and Spooner's would remain here for thirty years.
At the time of writing no photograph of Hudd's opticians has come to light. This is a picture of Spooner's in the 1980s.
Into the 21st Century and Mike Cees Opticians replaced R.F. Spooner at 122 Church Road in 2004.
<-- Previous Page
Next Page -->