123 - Wiltons
Sweets, Tobacconist, Toys
Wiltons was situated just along from the Redfield pub. It is here in the Edwardian period that Herbert Chorley established a tobacconist shop. Previously No.123 had been a bike shop, while next door at No.125 was Evans wallpaper shop. In the late 1920s the tobacconists was still being run by a member of the Chorley family. In the 1940s it was known as 'Waudbys' but by the mid 1950s a Mrs. Betty Lane was listed as the proprietor.
She was described in Kelly's directory as a 'confectioner' rather than a tobacconist. A further change occurred in the mid 1960s when it was known as Wiltons. According to Kelly's, Wilton's sweet shop was still there in 1973. When it closed down is not known. In the 1990s No.123 was a printing/photocopying shop. At the time of writing, No.123 is no longer a shop having been converted to residential use.
Dave Cheesley recalls the sweet shop in the 1960s: 'I'm not entirely sure if they sold newspapers but they did sell sweets, ice creams, Matchbox models and some other cheap toys. There was a central door with the counter on the left.'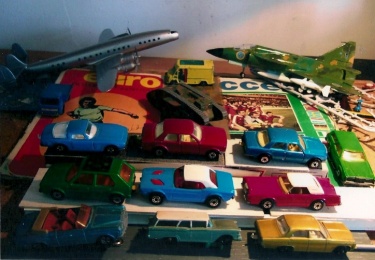 Andy Jones: 'I recall getting Matchbox models at this shop; they were bought for me by my sister who worked for BAC at the time. One I particularly remember, from 1968, was a Leyland 8-wheel petrol tanker in BP livery. This sweet shop was very near to where I lived, just across The Road. Martins newsagents was even nearer but Wiltons must have had a better selection of toys.
The Matchbox Series Nos. 1-75 really took off in the 1960s. The model cars, trucks, buses were cheap but incredibly accurate and well made. If you wanted Dinky Toys, which were considerably more expensive, you went to Max Williams toyshop; Matchbox models could be obtained from the local newsagent.
At this time Matchbox models were produced by Lesney Products, a company formed by Leslie Smith and Rodney Smith in 1947. When a talented engineer called Jack Odell joined the firm, the Matchbox series of miniature diecasts emerged. Quickly gaining a foothold during the 1950s, all models were individually packed in imitation matchboxes.'
<-- Previous Page
Next Page -->