112 - Eagle Coaches|

Dave Cheesley: "Eagle Coaches are Bristol's oldest coach firm. Started in 1928 by Mr and Mrs Ball who lived at 15 Goulter Street, Barton Hill. They kept their coaches in a converted barn and stables on the corner of Goulter Street and Queen Ann Road. By the 1980s the premises had become extremely cramped and many coaches were parked in the street at night. The council were keen to acquire the old garage for redevelopment and in 1986 did a land swap with Eagle Coaches who then gained a splendid new coach depot at Netham Road.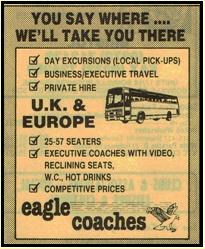 Around this time Eagle opened a booking office and travel agency at 112 Church Road on the corner of Church Road and Weight Road. The shop was a fully equipped travel agency, booking British and Overseas holidays as well as day trips, coach tours and private hire. I remember going to the booking office in the 1990s to book coaches for the Barton Hill History Group's annual coach trips.
Eventually competition from the larger travel agents and the Internet caused trade to drop and resulted in the closure of the shop."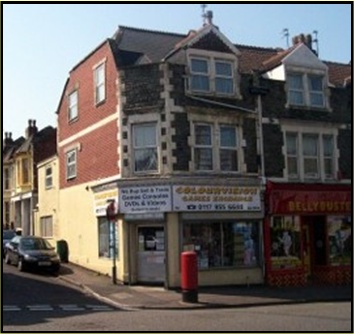 In the Noughties No.112 was used by Colourvision Games Exchange trading in games consoles, dvds and videos. In 2013 the premises opened as TOP 24, an off licence and convenience store.

The post box is a clue that No.112 was Church Road's post office for many years. (see Post Office, 128 Church Road)
<-- Previous Page
Next Page -->