110b - Stawts / Bellybuster
Stawts was a rather impressive sweet shop. It was recalled by the late Ern Haste: "It was next to the old Post Office at the bottom of Weight Road. This was what I would call a classic sweet shop. Mr Stawt's window was a pleasure to look at. The sweets were set up in layers in brass scoops but each sweet was in its own allotted space. Then there were the chocolates set up the same. Inside, all along the counter were the jars of boiled sweets which were also on shelves behind the counter. The other half of the shop was devoted to tobacco, with drawers of different varieties."
Various members of the Stawt family ran the shop over many years. Interestingly an advert from the 1950s describes this shop as THE YORK:

The proprietor Mrs I.G Stawt apparently traded into the 1970s. The date of the closure of this sweet shop is not known but by the early 1980s Bellybuster take away was occupying 110b.

The BELLYBUSTER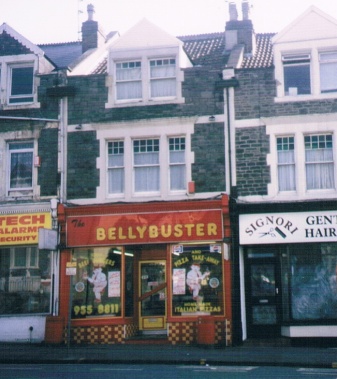 In 1980s and '90s Redfield, Bellybuster was a firm favourite amongst 'fast food' fans. On offer was an impressive range of burgers and pizzas to take away.
Bellybuster arrived on the scene around 1981. Unusually, the old central recessed door and traditional window layout was retained. However the shop sported an eye catching red and yellow design together with a name that was obviously chosen to be humorous and distinctive. As with the Church Road KFC, Bellybuster made an instant impact. In 1982 a television documentary was filmed capturing Bishop Mervyn Stockwood's return to his old Redfield stomping ground. The television crew followed him as he walked up Church Road. The camera lingered on the Bellybuster as a clear example of how Church Road had changed since the Bishop's days in the 1930s and 1940s! At the time of writing 110b is Pizza Top takeaway.
<-- Previous Page
Next Page -->