110a - Clip Joint
Hairdressers
The Clip Joint was a unisex hairdressers of the type which emerged strongly during the 1980s. This type of hair stylist offered a modern alternative to the traditional men and ladies hairdressers and became especially popular with younger people.
Dave Cheesley remembers: "Hair got longer in the 1970s and unisex hairdressers sprung up all over the City to cater for the new fashion. I started having my hair cut and blow dried at the Chelsea Clipper in High Street near to where I worked in the Corn Exchange. However it was much more expensive than normal barbers shops. Eventually it got too expensive and I was looking around for another place to go. My Dad suggested a new shop that had opened on Church Road that was situated next to Bellybusters. It was called Clip Joint. The owner whose name I think was Paul used to go to Ladbrokes to place a few horse racing bets and my Dad had got chatting to him there. My Dad mentioned that I was looking for a new hairdressers and Paul said send him round. This I did and continued to get my hair cut there for the next few years. Long hair was the fashion then and Paul had long shoulder length hair."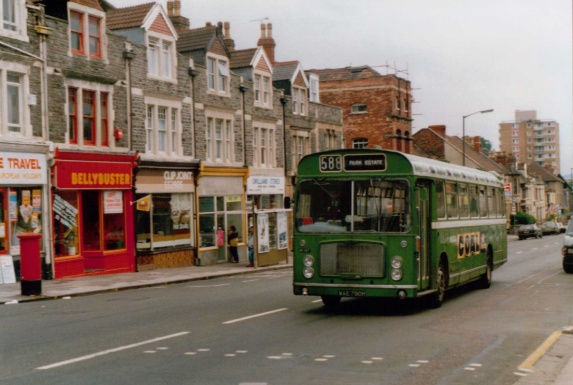 The Clip joint, third from the left, next to Bellybuster in 1987.
Note the green Bristol RE bus.
Before the arrival of the Clip Joint, No.110a had been used by a firm called Quality Cleaners who traded at this location from the early 1950s. In the 1930s and '40s it was a ladies dress shop.
In 1997 Clip Joint became Signori Gentlemans Hairstylists, while in the Noughties 110a was home to Lorem Hair Stylist and then Kandy Head Hairdresser.
At the time of writing, 110a Church Road is home to the distinctively named MOO BOO'S @ 110a, a hair and beauty salon concentrating on hair, beauty, nails and spray tans.
<-- Previous Page
Next Page -->