108b - W. Andrews
Greengrocers and fruiterers
This shop was just around the corner from Verrier Road and next to the Westminster Bank. Den Andrews moved into this Church Road shop with his wife and four children; Gloria the oldest daughter served in the shop. Previously this shop had been Wilson's florists and before that Palmer's, also a fruit and vegetable outlet.
Andrews was a popular, good value greengrocer. Notable was the shelf/tray which hooked on to the outside of the shop window. This was always filled with a fine selection of produce. People may also recall the Christmas trees which were stacked on the opposite side of Church Road, against the wall of Redfield Methodist Church. Den's 1960s Ford Zodiac was usually parked outside the shop. Mr & Mrs Andrews called time on the business when they retired in 1980.
Gloria Andrews recalls: "Dad had been brought up in the trade; his mother and father had a shop at 10 Barrow Road, Newtown, opposite Jenkins Furniture Shop. Dad had a green-grocery round at Horfield and Lockleaze but then the shop in Church Road came up. The shop was empty and we moved in during 1959.
We always sold a lot of flowers for Mother's Day, ranging from big bunches to tiny ones for the children to buy for their mothers. There were no deliveries of groceries except for a few elderly customers, who were unable to carry their produce home. Then one of the family would carry their goods home for them.
I remember there was a good friendly community amongst the shopkeepers."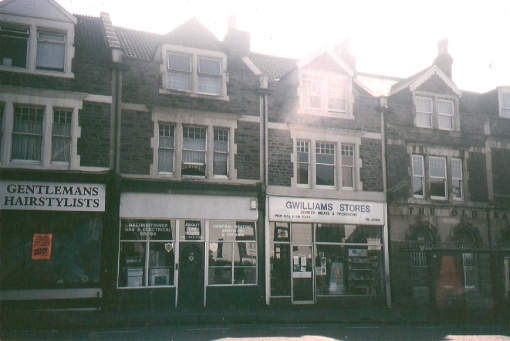 Following Andrews at this location was the 'new' Gwilliams shop (see above photo). Since 2006 Hall Brothers Carpentry Ltd. has used the premises.
<-- Previous Page
Next Page -->