104-106 - Bristol Dairies Ltd.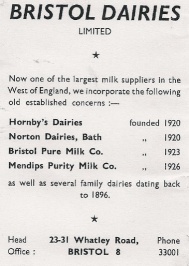 In the days before supermarkets virtually everyone had their milk delivered to their door. In the 1960s the firm in Bristol with the most customers was Bristol Dairies who had depots all over the City. On the corner of Church Road and Witchell Road stood the Redfield Depot, which delivered locally to East Bristol using mainly, hand steered electric milk floats.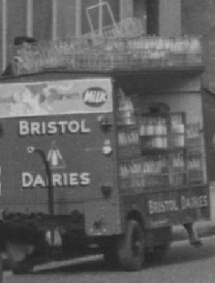 Dave Cheesley remembers: "The milkman walked in front of the float and steered it with the hand-controlled tiller. Although they were electric when you saw the milkman coming towards you he looked as if he was pulling the float. The Redfield depot had about six of these appliances; all of them carried registration numbers, as they were powered vehicles used on the highway. The depot also had a larger conventional electric milk float for deliveries further afield as the hand steered floats obviously had a limited range. The milk floats were painted in an orange livery. As well as milk the floats also delivered other dairy produce and orange juice in half-pint bottles. Bristol Dairies eventually became part of the Unigate Group."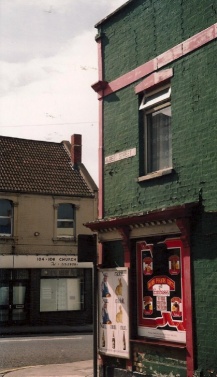 Not surprisingly the actual building has been altered dramatically since its dairy days. Flats were built over the actual yard, while the wide Church Road entrance with roll shutter was removed.
The dairy left in 1972 and the firm of A.C. Titchen, heating engineers used the premises. In 1980/81, Nos.104 and106 were used by G.R.C. Glass. Later a specialist bike shop occupied the premises, while in the early '90s it was used by Pennywell Garments. At the time of writing it is the location of Pat's News & Booze, who have been at this location since about 2003.
<-- Previous Page
Next Page -->