96 - John Redvers Rees
Hairdresser
In 1930, records show that 96 Church Road (just around the corner from Morse Road) was used by the Western Vintage Wine Co. wine and spirit merchants. By the end of the 1930s Mr John Redvers Rees had moved in, establishing a hairdressing business at this location. His shop had a very deep bay window (straight off the pavement), a traditional barbers pole and red exterior paintwork. Mr Rees cut hair at No.96 until about 1978. During his time at these premises he was also licensed to sell tobacco.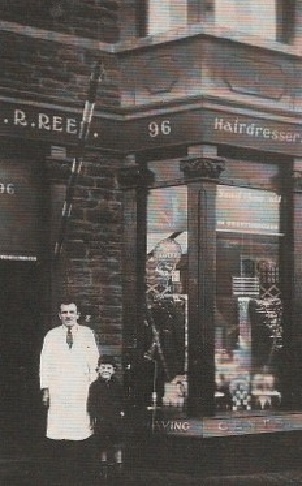 Dave Cheesley remembers: "As fashion changed hair got shorter again. I was looking around for other barbers. Dad said he was getting his hair cut round the corner. I thought he meant Rees's shop on Church Road. So on Saturday morning round I went. Rees's was an old fashioned looking, typical barber's shop. Brown painted shop front with jars of Brylcreem and pictures of the Blue Gillette man in the window. I went inside and there was one old man in the chair and a couple of older men waiting to be done. I quickly realised that Mr Rees had only one haircut, short back and sides, and his customers were all over 50 years of age. I started to panic. That was not what I wanted. The next man went up for a cut; I was now only one away. I knew I had to get out of the shop and fast. I had to think quickly. I got up and said "I just remembered that I've left my money at home, I won't be a minute". I was out of that shop like a shot, back to our house. When Dad came home, I said "Where did you say you got your hair cut?". He said "Whitehall Road". I had gone to the wrong shop!"
When Mr Rees departed from the premises, the property was completely rebuilt and after the alterations to residential use it was very difficult to recall it had ever been a hairdressers.
<-- Previous Page
Next Page -->