89-87 - Richmonds
Furniture Retailer / Draper
Henry (known as Frank) Richmond was born in 1867 in Bath. His father James was a furniture porter. By 1881 James and his seven children had moved to St Philips Bristol.
Frank entered the furniture business and in the Edwardian period began trading as a house furnisher at 89 Church Road. At the end of the 1930s
Henry's wife Ada was running the business. By the early 1950s, the adjoining premises, No.87 had been acquired by Richmonds this had been Thomas Harwood's drapers shop. Richmonds continued selling drapery items there.
By 1955 Ada and Frank's daughter, Lily, were the proprietors of the business. Although the drapery outlet closed in the mid '70s, Lily continued running the furniture retail side of the business at No.89 until the early '80s (see W.J. SAIT).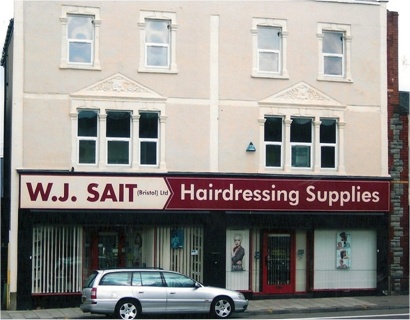 A 2013 picture of the premises. No photograph of when it was Richmonds has surfaced to date.
These two shops stood out amongst the neighbouring properties due to the fact that they formed one stylish, attractive block. Built in 1895, the shop front architecture was rather impressive; No.87 in particular boasted a well-proportioned central recessed lobby with angled side windows, as can be seen in the photo. (At the time of writing this layout survives). Shops with this design were popular during a downpour as they provided useful shelter from the rain!
<-- Previous Page
Next Page -->