85 - Arrow Coaches

Dave Cheesley: 'Bill Barrett and his wife started Arrow Coaches in 1979 with a £100 loan. Starting with one coach they built up a fleet of 50 coaches, buses and minibuses. In 1982 they acquired the premises of Ken Kollings (sweet wholesalers) at 77 Church Road which had some derelict land adjoining the building, this was convenient for keeping their fleet of buses. They also rented space in Lawrence Hill railway yard for the parking of vehicles.
Following deregulation in 1986, Arrow started a Bristol to London express coach service. They had several contract bus services with Avon County Council but they were required to carry passengers with rival company tickets free of charge. This resulted in Arrow coaches going bust. The firm at one time was valued at one million pounds.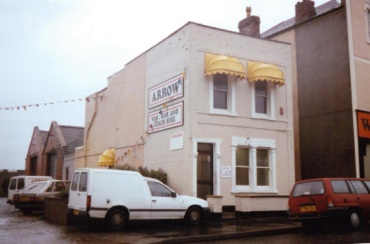 In 1994 the company changed its name from Arrow Coaches Ltd to Ambassador Travel (Bristol) Ltd. and was finally wound up in 1996. The site was then used for car sales.'
In this mid '80s photograph, No.85 is being used as the office for Arrow Coaches. It was a very early (for Church Road) pre-Victorian structure. Note the 'pram hood' awnings which were very 1980s.
In 2005 it was a café but was pulled down two years later.
<-- Previous Page
Next Page -->