4 - Clements Confectioners
This was situated on the corner of Church Road and Morton Street. Throughout the years 4 Church Road thrived as a sweet shop; perhaps due to the closeness of the premises to Lawrence Hill Railway Station. This was an ideal place to 'stock up' for the journey.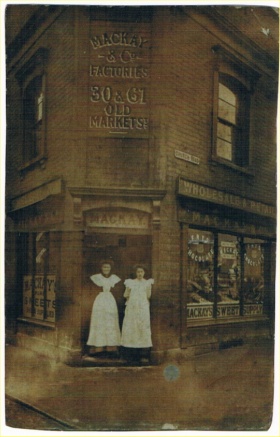 In 1903 this establishment was a branch of Mackey and Company whose Head Office was in Old Market. This firm was then in the business of manufacturing confectionery.
In 1914 Cuzner and Company took over the shop, and then in 1928 Thomas Gibbs was the shop keeper. In the 1930s Ernest Mogg was trading from this location.
In the late 1930s and in the '40s Mrs Elizabeth Mary Clements ran this small corner shop. By the early '50s her daughter Miss Sybil Violet Clements had taken over the business. Mrs and Miss Clements were confectioners and tobacconists with (according to an advert from the late 1940s) "Ices a Speciality". The late 1950s saw Mr Newman as proprietor of the sweet shop; it's not clear if ices remained a speciality!
As trading at these premises was coming to an end in the late '60s early '70s, E.V. Drennan ran the shop and the last Kelly's Directory of 1973 records a B. Hewer as 'shopkeeper'. Following the fate of the Victorian houses in Morton Street, 4 Church Road together with adjacent No.2 (Hodders bacon curers) were pulled down in the 1970s. Both shops were replaced by a single storey structure occupied by AUTOQUIP - car accessories, components, tools and paints. This building itself was demolished after AUTOQUIP moved to Fishponds Road. At the time of writing the site awaits redevelopment.
<-- Back to contents page
Next Page -->