359 - Thomas George Meadows
Motorcycle Spares
Research suggests that No.359 was built in the 1890s or early 1900s. By 1906 it is listed as a china shop, the proprietor being a Mr. William Fox.
About 1936 Thomas George Meadows established a motorcycle spares business at this premises; it was there for many years. Motorbikes and scooters were always to be seen outside the shop, as seen in the photograph.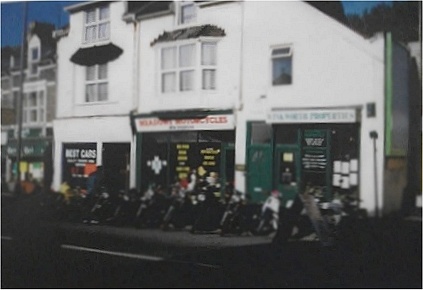 David Stephenson: "They kept spares for all makes of motorbikes and scooters, including Vespas and Lambrettas. Bikers had to rummage around for what they wanted. He employed a young assistant, Bob Winkworth, who soon became a partner. He went on to be very successful. He now owns that shop and many other businesses along that road."
At the time of writing 359 Church Road is a Polish Delicatessen shop.
<-- Previous Page
Next Page -->